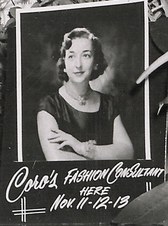 Evelyn Small Rosoff
Coro History Research
Evelyn Small Rosoff (1929-1992)

Stacey Rosoff of Rifka's Treasures and member of Jewel Collect stumbled on a treasure trove of Coro history when her father-in-law, Howard Rosoff, moved into a nursing home. Stacy always knew that her mother-in-law, who had passed away suddenly in 1992, held an important position at Cohn and Rosenberger, manufacturers of Coro jewelry. Howard wouldn't allow anyone to move anything in the apartment so the documents, chronicling his wife's career, remained out of sight.

Evelyn Small Rosoff had worked for Coro from approximately 1950 to 1959. She kept cards and letters and all types of meaningful memorabilia, including many documents and photos about Coro. Through this web page Stacy has generously shared these items with anyone who may have an interest in the history of vintage costume jewelry.

Stacy writes,"I was lucky enough to learn so much more about my mother-in-law through all of these treasures than in the three short years I knew her. It was very bitter-sweet finding out all of these interesting things and realizing how much we missed her. She and I would have had this great passion to share. As an added bonus, I was also able to learn all kinds of facts about my husband's childhood - things only a mother would remember!".

Stacey's shop, "Rifka's Treasures", is named in honor of her mother-in-law (her Hebrew name).

Thank-you Stacey for sharing this priceless history.
Album by CoroJewelryPatents.com.
1 - 31 of 31 Total. 0 Visits.