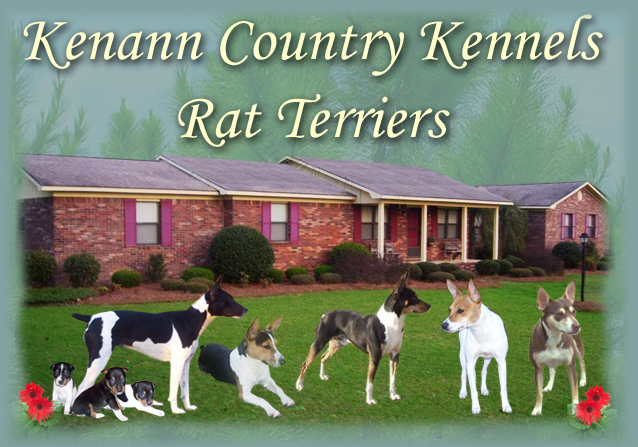 Website Designed by "Karrie Short"

CLICK HERE TO VIEW PUPPIES AVAILABLE !!

RAT TERRIER BREEDERS IN GEORGIA!
~~Located in the rural heart of Georgia~~

Championship Bloodlines
We are hobby breeders of purebred Rat Terriers located in Georgia in a rural community near Adrian, Georgia. We currently have six of the most beautiful and loved Rat Terriers in the world. Lyric, Hazee, Tressy, Lil, Taylor and Rosie say hello and thanks for visiting our page. All of them are beloved members of our family!!

Our goal is to breed top quality Rat Terriers with
superb health, temperament and conformation. We have gone to great lengths to obtain bloodlines with proven hunting ability, intense prey drive and impeccable temperaments. With goals to improve with each litter, we use the AKC and UKC breed standard as our guide. Much research and thought is given to each potential breeding. We focus on QUALITY LITTERS, striving to correct faults and balance strengths and weaknesses with every individual breeding. No planned litter is taken lightly.







HEALTH-TESTED PARENTS FOR HEALTHIER PUPPIES
All of our Rat Terriers are OFA certified for healthy hearts, patellas, hips, elbows and LCP before they are bred. They are also microchipped and registered. We take a great deal of pride in having them completely CHIC certified when they are bred. All of our Rat Terriers have also been tested for Primary Lens Luxation. Results are posted in their individual albums. The results will be very beneficial for us in the future as we will make every effort to eliminate the gene altogether through responsible breeding practices.
All of our Rat Terriers are registered with AKC and UKC.

We have a small breeding program and all of our breeding dogs are beloved pets. When introducing a new puppy to our home and breeding program, we housebreak them, crate and leash train them, and socialize them with as many people as possible. They are considered far above "breeding stock". Our girls are not bred every cycle. After whelping a litter, they are given adequate rest, re-vet checked, and are completely withheld from breeding unless 100% ready and healthy. We never jeopardize the health of an individual dog just to produce puppies.

We go the "extra mile" to make sure our doggies are safe, healthy, comfortable and happy. They are our beloved pets FIRST and they are all spoiled rotten. It is EXTREMELY IMPORTANT to us to know that puppies we produce will be placed in homes where they will be considered a true member of the family and loved and spoiled very much, so please do not be offended when you are screened thoroughly when applying for one of our little ones.

All of our pets are kept strictly up-to-date on their vaccinations and heartworm and parasitic preventive. They are fed high quality all natural dry kibble and given fresh cool water daily. Along with their dry kibble, they are provided a vitamin supplement daily. We rotate the times for adding the following foods to their diet: raw chicken necks, raw beef bones, plain yogurt, cooked chicken, cooked beef and a few vegetables.

Rat Terriers are very curious and highly trainable. They thrive best when showered with the love and adoration of their human companions. There is nothing that a Rat Terrier loves more than to know he's pleased his master. It doesn't matter to a Rat Terrier whether he's hunting or just enjoying being a lap dog, just as long as he can be with his human companion. They are big dogs at heart packed into a smaller package and are terriers through and through with bravery and tenacity.

We hope you enjoy looking at our Rat Terriers. We truly believe that they are THE all-around best breed. They are GREAT with people of all ages, including children when they are introduced to them as puppies! Ours also adore our cats and love to play with them! They have a strong prey drive for those who are interested in a hunting dog and they are SUPER SMART for those who may be interested in a working/agility dog. If you are just interested in having a perfect companion for your family pet, they are thrilled to be that, too! We've owned several other breeds through the years, but this breed outshines them all for being a PERFECT FAMILY PET!

We are happy to show off the dogs that we've bred. We hope you will take time to scroll through the albums of photos on our site. We are constantly updating them as we hear from a family who has one of our dogs. Through the years, we've produced show champions and grand champions, dogs that have done remarkable in agility, terrier racing and lure coursing, therapy dogs, canine good citizens, top of the class graduates and more. Although we love show and performance homes, we always welcome wonderful families seeking to add a pet to their home.

"Kenann Country" explained: We have two beautiful daughters, Kensy Leigh and Anna Reigh. "K-e-n" is the first 3 letters of Kensy, and "a-n-n" is the first 3 letters of Anna. So you have it, "Kenann". We are located in the deep south and live in the country, which we love very much. So we are forever Kenann Country. You are welcome to check us out from time to time, as we will be keeping these albums updated and adding new ones.

Please feel free to contact us by email: SEND EMAIL
(OR) by calling us at (478) 668-4837

God Bless,
Kenny and Sheila Wilcher

Licensed with Georgia Department of Agriculture-License # 36100506
and AKC Inspected