Rat Terriers Located in Vermont. We travel throughout New England and are in driving distance of New York, Massachusetts, Maine, New Hampshire, RI, connecticut and Quebec. We occasionally ship to the right homes, but prefer you pick your puppy up in person or meet up with us somewhere.




None of the photos on this page may be used without expressed consent in writing or by e-mail. All photos not released by these permissions are in violation of Digital Media Copyright infringement.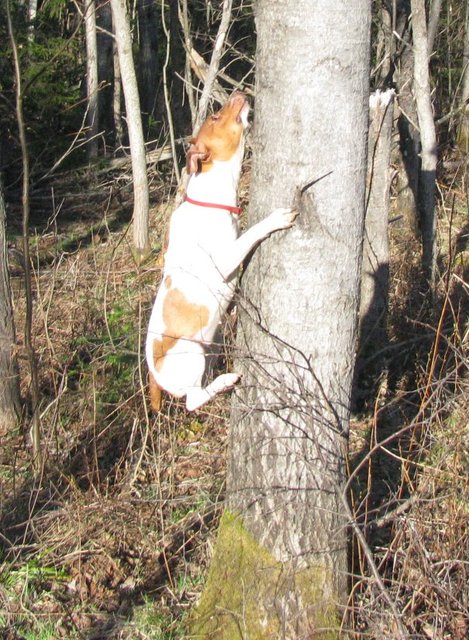 WarrenMtn's Killer Queen Bee "Ginger" Treeing a Squirrel
The primary reason anyone becomes involved with dog breeding and showing is a fundamental love of dogs. We treasure the companionship, the never failing loyalty, the delight they exude. We love to have them on our beds. Their eagerness to face the new day, even when we wake them up at dreadful hours, provides us a wonderment that brings back the exuberance of childhood. - 7 Foundations of A Successful Dog Breeder
We breed to preserve the natural characteristics of the breed. By breeding to the UKC standard and for good health, temperament and hunting ability, we have seen our puppies move on to be great all-around farm dogs, hunting vermin and herding, as well as alerting owners to potential intruders. It is our pleasure to share our dogs with you & hope you will take time to see our photos and if you're interested in talking "Rat Terriers" we would love to hear from you.
Our dogs usually grow to be 10-15" in height. Mini-Small standard size according to the UKC registry.


See a couple of our very own dogs in:

OFA* CHIC



Links:
***UKC Breed Standard for Rat Terriers*** ARTA -Parent Club for UKC *** RTCA -Parent Club for AKC *** OFA- Health Screening Database*** UKC - Working Dog Registry*** AKC - American Kennel Club*** COLOR GENETICS FOR RAT TERRIERS BY: SUE Campbell***





16 - 20 of 20 Total.