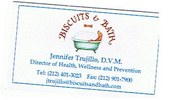 1
Biscuits & Bath is located in NYC. They have 6 different locations. Jen Trujillo is the Health, Wellness & Prevention director she is kind, gentle and Rat Terrier savvy. She and her dear mother, Kathy have purchased puppies from us in the past. What a wonderful family! If you visit Jen @ Biscuits and Bath, tell her I said hi! :)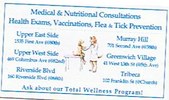 2
Biscuits & Bath locations. Upper East Side, Upper West Side, Riverside BLVD, Murray Hill, Greenwich Village & Tribeca.
Vet care, Dog sitting, grooming & more!