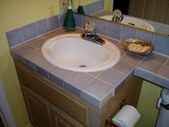 1
Old Guest Bathroom
So, here's what it originally looked like: White ceramic sink, dated faucet, tile counter, faded maple cabinet, wall-to-wall mirror, cheapo light fixture (not shown). Also, I had already replaced the pink wallpaper prior to this photo.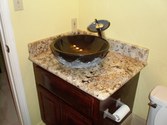 2
Main re-work
I stained the cabinet mahogany, fabricated a beautiful granite countertop, installed a black onyx granite vessel sink and a waterfall faucet.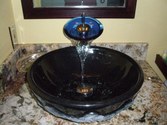 3
Waterfall Faucet
A front shot of the waterfall faucet. Pretty cool, eh?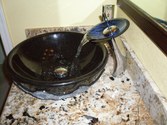 4
Side View of Faucet
Another shot of water flowing from the faucet. You use the chrome metal pole sticking out of the faucet to turn on the water, that flows over the plate.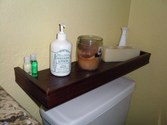 5
Hand built Shelf
I bought some molding and created a small shelf, having matched the orangepeel texture on the wall after ripping out a tile shelf. I stained it to match the cabinet.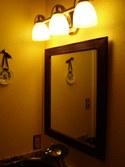 6
Mirror and Lights
Finally, I cut the original wall-to-wall mirror into a smaller shape, and used the rest of the molding (from the shelf) to build a mirror frame. I stained it to match the shelf and cabinet. The last thing was to replace to old 4-vanity bulb lights with a modern design.