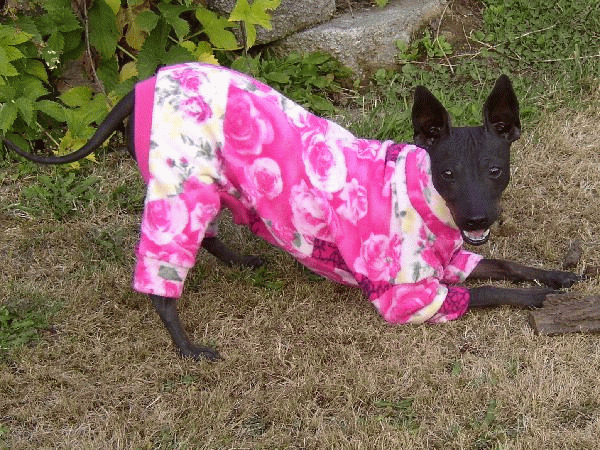 Joggers are designed with comfort first and foremost.
There are no snaps, Velcro, buttons or zippers. They are as easy to put on and remove, as your favorite sweatshirt.
My pattern is the result of many attempts and I'm thankful I had my own test subjects living with me. The legs are kept shorter to prevent them from slipping out when laying down and to keep the cuffs dry away from the grass when going out to potty or play. I make the neck and cuff's of fleece when possible. The neck is a turtleneck to provide more warmth in winter or sun protection in the summer.
I found dogs do not like tight fitting clothing that has to be forced over their head so the neck is large enough that is will slip over easy. Next is inserting the front legs. I found that if the chest is a bit oversized it allows the room necessary to easily guide the front feet in. The back legs are very easy to insert. To remove your jogger simply take both back legs out and turning it inside out just slip it over and down, your dog will soon learn to pull his head out.
They are available in several types of fabric.
The most popular is fleece. Other choices include,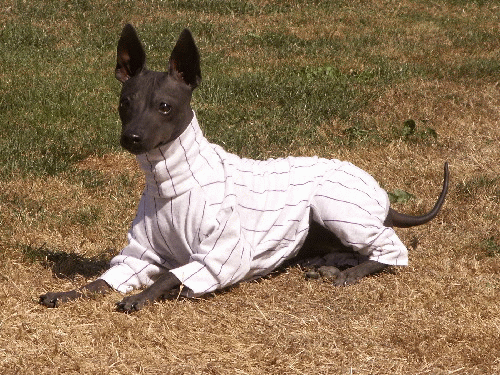 cotton T-shirt and Flannel.
I will do customer orders, if for example, your want your dog in your favorite team colors.
CARE OF YOUR JOGGER
FLEECE Warm water wash and tumble dry.
A hot dryer is the worst enemy of fleece so care should be taken to remove as soon as possible.

You will not ruin it if your forget but will notice the fibers are not quite as lofty.

COTTON T-SHIRT & FLANNEL Warm water wash and dry.
The cotton is preshrunk.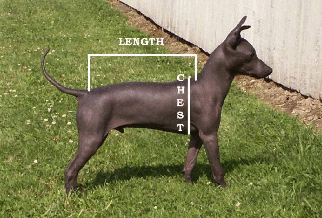 HOW TO MEASURE
Please Note: on the order form where it ask you the size....that is the length.


Use a soft tape and measure:
1. Length
2. Chest (completely around.)
3. Neck
4. Height at Shoulder
5. Optional snood length
I also need:
1. Male or Female Cut
2. Weight
3. Breed
When you measure the dog must be standing and relaxed. Get help to hold your dog if he is nervous or wiggly. Start your tape at the base of the neck which is right at the natural bend up or a couple finger widths in front of the shoulder blade, go all the way to the start of the tail. The neck is taken in the middle, not at the base and not by the ears but right in the middle. The chest is taken at the deepest part.
If your ordering a suit with the head covering snood I will need one more measurement. That is taken from base of neck, up through ears to the start of the eye.
ORDER
To order please head over to the albums of fabric, make note of your selection and sizes needed. Then, just email your order to randijr@gmail.com. I will then make you a custom listing on my Artfire site where you can check out securely and pay with PayPal or check. .
SHIPPING JOGGERS TO A US ADDRESS
1- Jogger will go 1st Class for $5.75
2- Joggers will go 1st Class for $7.75
3 -4 Joggers Priority$9.75
Each additional Jogger is $2.95
1 - 1 of 1 Total. Hidden