1
Lucky Dominates Dusty
Lucky is the bossy dominant female and my poor Dusty is the one underneath with his back on the ground.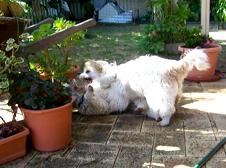 2
Look at Lucky's Fangs
While you wait for the video to load, just look at Lucky's Fangs!


3
Dusty Hides The Ball
Hear Gretel the hen cackle as Dusty hides the Ball in the pile of garden prunings.