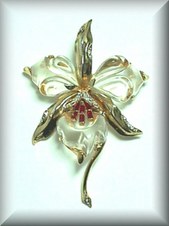 1
Reproduction Jelly Belly Brooch. Molded lucite petals, gilt leaves with tiny rhinestones on the curls of the leaves and stem. Clear pave stamen with ruby baguettes. This is a very well made reproduction and once you know the differences in construction you will know right off. These are still desirable in their own right.

SOLD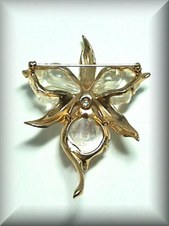 2
Signed with the Crown Trifari mark on the right leaf and a number in at the top leaf that reads: 138652. It is not marked Sterling.


3
Genuine Trifari Jelly Belly Orchid. Photo courtesy of Brenda Nurenberg at Vintage Treasures.

The baguette settings are the true indicator. There is also a smaller baguette tucked up in the middle row closest to the pave rhinestones. In the repro there isn't one - it is a small knob of metal. There is a difference in the metal color as well with the fake being a brighter gold color.