1
Full view
This series of photos is from a 'return' of guinea pigs adopted out to a nice, well-to-do family with 3 kids. The oldest was 10. She was the one apparently 'cleaning' the cage. Despite hearing multiple times from me during the adoption process that kids WILL NOT take care of the guinea pigs over time, that it is the PARENTS RESPONSIBILITY, THIS is how a cage and a pair of adult females was returned to me in October 2003 from an adoption in May 2002.
"I hope you gave this childs mother a..."
"Well, I'm almost 13, and I've been t..."
"they should learn how to take care o..."
"im only 11 and im taking care of my ..."
"I am 11 and have had 6 guinea pigs t..."
"This is just disgusting. I'm twelve,..."
"I didn't even think this was a thing..."
"i'm eleven and i have kept piggies f..."
"Im only 9 i can't clean out the cgae..."
"this is just disgusting. how did the..."
"Ewww,I'm ELEVEN and I clean the cage..."
View Comments...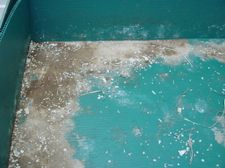 2
NO EXCUSE
There is NO EXCUSE -- other than abuse and neglect -- for a cage to EVER be in this condition. I have been using C&C cages 5 years and everyone of them looks as clean and new as the day they were first made. This is disgusting.
"Its sooo disgusting! Yuck!"
"that is big time animal curalty"
"I agree 100%!!! I want to put toget..."
"GGGGRRRROOOOSSSS!!!!!!!!!!!!!!!"
"Ewwww i think im gonna puke!"
"It is just sad how a cage can be all..."
"I was actually having a problem simi..."
"TISK TISK!"
"that is so sad because they cant go ..."
"this is gross and they keep piggies ..."
View Comments...


3
NO CAGES IN KIDS BEDROOMS
This cage WAS NOT in the kid's bedroom. Thank God for small favors. It surely would have been even worse. The conditions of this return just underscore all of the statements put forth on my page about why we do not allow cages to be in a child's bedroom. It's a condition of adoption from Cavy Spirit (Bedroom Policy).