Cavy Spirit and Cavy Cages
Welcome to the Cavy Spirit family of albums, including Cavy Cages!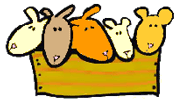 Cavy Spirit is a Guinea Pig Rescue and Adoption home. We take in abandoned guinea pigs and place them, healthy and happy, in high quality, permanent homes. We focus on education and public awareness of the proper respect and care that these and all animals deserve. We are committed to breaking the chain of neglect, abuse, and abandonment.

1 - 21 of 68 Total.