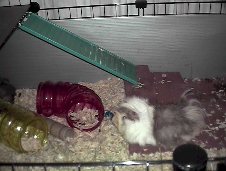 1
Ramp: Patio to Upper Deck
Ken's brick patio provides some height and steps up to the ramp, making the ramp less steep. The pigs love hanging out on the patio, especially when it's hot out!
"how do u put the bricks in? Its a cool idea!"
"you just put them in"
"Your Guinea Pig is so cute!!! But I have one question..."
"i like your idea"
"she bought it duh!!"
"Nice little ramp too."
"ttttttttmy name iz tee"
"My guinea pigs don't go up their ramps :( it's irr..."
"The bricks are a great idea. I just put some in in my..."
"My guinea pig just jumps up so I.took the ramp out"
View Comments...


2
Brick Patio
Ken's Cool Brick Patio is a hit with his guinea pigs. They love it!
"Very clever!"
"A great way to keep their nails filed, too!"
"Great idea! Where in the world do you get bricks?!"
"Home Depot"
"Isn't it hard to clean around? I mean, you'd have to..."
"Good idea!!!!!!!Keeps the nails filed!! (by the wa..."
"sweeeeet!!!!!!!!"
"(by the way im a prince)"
"I put some bricks in my cage too but I was wondering...."
"About how much do the bricks cost"
"very cool idea!"
"Bricks have a kind of static that contribute to tumor..."
"that is the stupidest thing i have ever heard of, coc..."
"I've also got two bricks in my cavy cage, it's good b..."
"When my mom and I let our pigs have floor time, somet..."
"This is a very awsome idea... I am goin to use that i..."
"would that be ok for 29 ginnies"
"I am the other anna btw and are those brick plates li..."
"Put a brick under your water bottle. Not only does i..."
"Great idea."
View Comments...