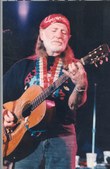 enlarge 47KB, 418x640
1
Willie #1
Willie at the Historic Villa Montalvo.
I had to laugh - the whole parking lot was full of Mercedes and VIP's

Willie was 30 minutes late just to thumb his noise at the crowd and they loved him.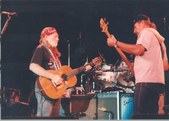 enlarge 47KB, 640x458
2
Willie #2
The Villa Montalvo is a little "Snooty" and would not let me meet with Willie - I had to sneek photo's.
Willie's Manager Set me up to meet with Willie at the Watsonville Fair Grounds the next day.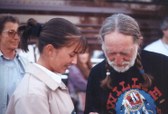 enlarge 35KB, 640x434
3
Willie and V_Key
Watsonville, Santa Cruz County Fair Grounds 1999
The Hells Angles were security for Willie and Me
They treated me like a Queen
Thanks Gentlemen