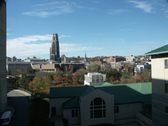 enlarge 87KB, 1024x768
1
Cathedral of Learning (wide)
28mm focal length, ISO 100.
Taken from a pedestrian bridge between the two buildings at the extreme edges of the picture. Any small blurry patches are due to dirt on the windows; the minor vignetting in the corners is due to my UV filter (I'll have to find a thinner one).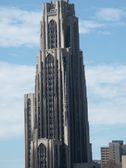 enlarge 83KB, 768x1024
2
Cathedral of Learning (zoomed)
200mm, ISO 100.
Zoom in on the previous picture, lossless rotation in IrfanView.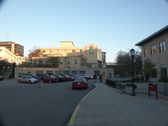 enlarge 76KB, 1024x768
3
Vignetting Test Shot
D7 at full wide angle with a standard-thickness Tiffen 49mm UV Haze filter.