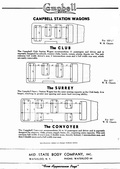 1
A page from the Campbell-Midstate Body Co. catalog sheet shows seating configurations offered. The 11-passenger Surrey body was adopted to the Power Wagon chassis.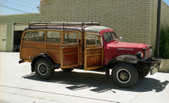 2
Woodie as purchased by George Wellman. Rick Sultan photo.


3



4
A souvenir pen from Charles Ward, owner of the 7-Lazy-T ranch.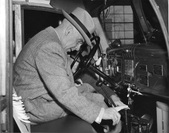 5
Charles Ward tries out the controls of his new Christmas toy.


6
As delivered to St. Paul in 1949, the Power Wagon was outfitted for work with a winch on front, a radio, and a spotlight.


7
Don Moody and father with the pronghorns


8
Don Moody got to visit the Power Wagon woodie again more than 50 years after his hunting adventures in it.