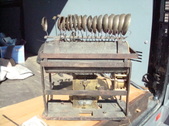 1
This is a view from the rear of the clock that would have been installed in the hood of the case so that this side is against the back of the case. The tune drum is made of wood and we think that it would play 8 tunes. There were originally 19 bells on this instrument but several have been lost.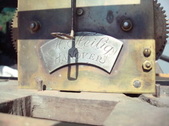 2
Plaque that in on the back plate of the clock. It shows that this clock was made in Hanover meaning Hanover Township in Philadelphia County which later became Montgomery County. This is of great signifance in that if the clock had been made in Hannover, Germany as some have suggested it would have been spelled Hannover, not Hanover. The hex head nut is a replacement to a square headed one lost.


3
Front view of clock. Motive force for driving the musical part is provided by the brass mechanism on the left hand side of the wrought iron frame.


4
The hammers and the bells. If you look close you can see the pins in the wooden drum that cause the hammers to strike the bells. Also there are two ivory or bone ways that allows the tune wheel drum to be shifted from one tune to another. This bone was the 1700s equilvalent to our Teflon.