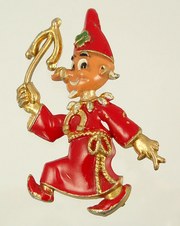 1
Accessocraft Products Corp.
Superstitious Aloysious (1941)

Designer Albert Freedman
Patent 127,008

Figure in magicians' robe of gold-plated metal with red, white and green enamel. Four-leaf clover on hat, rabbit-paw necklace, with horseshoe hanging from it, magic wand in right hand with wishbone, fingers crossed on left hand and belt is tied with a large lucky knot.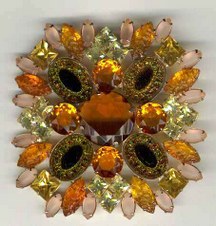 2
The mysterious designer named Albert. Gorgeous cat's eye stones surrounded by autumn-toned rounds and marquise-shapes. Signed Albert in block letters.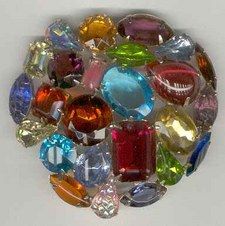 3
Another Albert pin with glorious colors and shapes. Most Albert pins that I own are square, so this one is unusual. Signed Albert.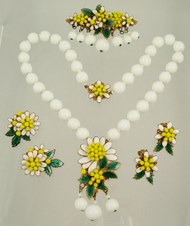 7
Amourelle
Designed by Frank Hess early 1960s after retirement from Haskell

Parure of chalk-white beads, enameled daisies and green enamel leaves. Necklace and pin show typical Hess dangles and asymetry. Two pairs of earrings.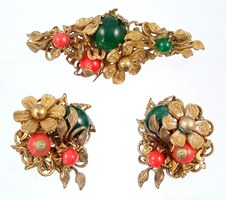 8
Amourelle gilt metal pin and earrings with dark green glass and coral glass stones.


9
Amourelle earrings with turquoise enamel leaves, pink, lavender and citrine rhinestones.