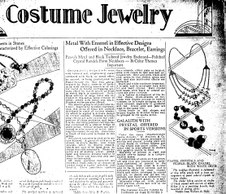 1
Women's Wear Daily May 1, 1930

Metal With enamel in Effective Designs Offered in Necklace Bracelet, Earrings
--------------------------------------
Patou's Metal and Black Tailored Jewelry Endorsed

Costume jewelry designed to be worn with tailored suit, emphasizing metal combined with black, or metal offset by enamel, is being promulgated by Fishel-Nessler Co. ....
The enamel group is of particular interest. Inspired by German craftsmanship, flat disks or rings are utilized, developed in metal of various shades, on which is applied a delicate design in colored enamels. Various overlapping effects are also used in the composition of these necklaces and bracelets, the matching pendant earrings being completed by a shower fringe of plain metal. similar designs are presented in sets entirely of metal, omitting the enamel decoration. Sometimes a touch of marcasite is found in this group.

Picture on right-caption:

Pas...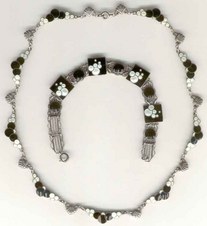 2
Black and white enamel bubbles necklace and bracelet. Marked E (in a square) and STERLING.


3
Teal, lavender and yellow enamel bubbles necklace, bracelet, pin and earrings. Variety of marks: necklace- E in a square and STERLING, bracelet-no marks, earrings-STERLING, pin-E and STERLING.