Miriam Haskell Jewelry
by Cathy Gordon and Sheila Pamfiloff

A Schiffer Book for Collectors with Price Guide
ISBN 0-7643-2070-X hardcover
Publication date: July 2004
$59.95 plus shipping

Book can be purchased directly from Schiffer or through venues such as Amazon, Barnes and Noble, etc.
Date(s): March 19, 2004.
Album by Cathy Gordon.
1 - 1 of 1 Total. 22745 Visits.
Sign the Guestbook
. Displaying 5 of 27 entries.
This is a fascinating website and clearly a time consuming love for you. If you happen to read this comment, do you give advice on unsigned pieces that other folks have? Thanks for sharing your knowledge with the rest of us through this website. -David

-
David Stone
, Tue, 24 Mar 2020 5:18PM
I have a lot of old family jewelry ... now I need to learn about these pieces.

-
Terry
, Tue, 8 Aug 2017 7:02AM
I love your site, I come here so much!

-
patty yoder
, Thu, 3 Jul 2014 12:08PM
Thanks yet again for posting pictures with such valuable info about Miriam Haskells work. Great Haskell Book, too! Congratulations!

-
Lauren Matthias
, Wed, 22 May 2013 6:28AM
More guestbook entries...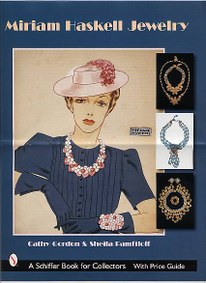 1
Miriam Haskell Jewelry
Vintage Haskell jewelry is highly sought after, causing collectors to hunt for it in every imaginable venue.

This important work provides specific details on the art, design, style, materials, construction, and signatures, all vital to the identification and dating of Haskell pieces. It also dispels many of the myths that allow "wanna-bes" and fakes to flourish.

This book contains approximately 600 fascinating photographs of Haskell jewelry, the most extensive collection ever provided in one body of work. They are categorized by designer, specifying notable eras, with notations on innovations and style preferences and in-depth descriptions pointing to key Haskell identifiers.

Readers at many levels, from casual admirers to serious collectors and dealers, will find this book informative, and the illustrated jewelry breathtaking.


Select All.