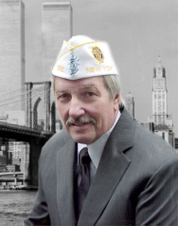 Hello Legion Family All,
Welcome. It's time to start the American Legion Family 2013-2014 year of the NY American Legion. I will post as many pictures as I can while traveling with Dept. Commander Ken Governor, Auxiliary President Barbara Corker and Detachment Commander John Chang. Be sure to check back often and remember to keep a smile on your face as you never know who (or what) the lens will capture next!
Also check out Department of New York New Web Page.
Doug Malin
American Legion Department Photographer
The directions for downloading images are as follows:
1 Click on the thumbnail image you want to download
2 Under the enlarged photo chose "Original" 
3 Right click on the full image after it loads in…

 

then choose 'Save Image/Picture to your computer
                                                OR                                                                                             
                                Use the NEW DOWNLOAD button above photos
1 - 25 of 25 Total.