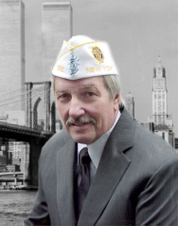 Wow! Time for another year with the Dept of NY American Legion. Commander Frank Peters, Madam President Diane Gerber, and Detachment Commander Chuck Depo have an exciting year ahead as they travel throughout this great state. I will be attending as many events as I can trying to capture those special moments that will bring the Legion, Auxiliary, and SAL together as a Legion Family. Be sure to bookmark my photo page for easier access to those highlights and more!
For God and Country and
The American Legion
Doug Malin
Dept. Photographer
The directions for downloading images are as follows:
1 Click on the thumbnail image you want to download
2 Under the enlarged photo chose "Original" 
3 Right click on the full image after it loads in…

 

then choose 'Save Image/Picture to your computer
                                                OR                                                                                             
                                Use the DOWNLOAD button above photos
1 - 20 of 20 Total.