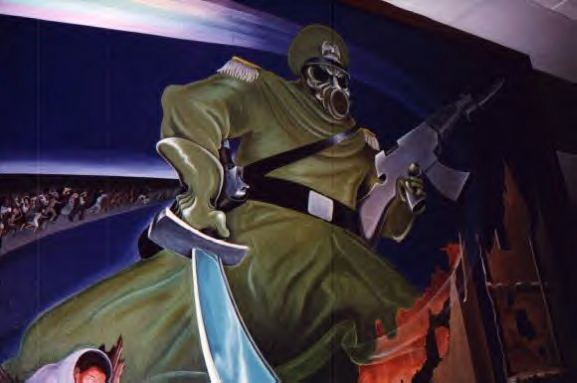 STRANGE DAYS STRANGE SKIES PART 3: CHEMTRAILS IN ART & MEDIA
CREEPY DENVER AIRPORT CHEMTRAIL ART: Spectre of Depopulation?

I think this mural makes the purpose of the chemtrails quite clear. A gas-masked military apparition is shown with sword drawn. (The rider is wearing a gas mask no doubt for protection from the chemtrails. Maybe we all should be wearing gas masks!) A white dove is impaled on the end of the sword symbolizing the killing of caring and compassion. In the background, masses of women fleeing with dead babies under a rainbow chemtrailed sky. The rainbow colors in the chemtrails signify the presence of highly toxic Ethylene Dibromide vapors. The images in this mural suggest that the world has been turned into a gas chamber for the purpose of genocide, or depopulation, similar in concept to the Nazi death chambers of WW2, only the world as a gas chamber kills more slowly. Just the same millions will die. If the chemtrails aren't stopped I see this as unavoidable.
"...and the other Agenda is: because it's a (commonly) slow, painful, to imminent Death being sickened/diseased by the poisonous chemical wastes, people seek 'Medical' doctors and spend a lot of cash$$$'s! So sickness is two-fold; chemical damage under chemical environment and dangerous chemical/Drug Prescriptions while under the expectation of wellness in Pharmaceutical drugs - and Lies 'to boot'!" --
Truth
, 03/26/16