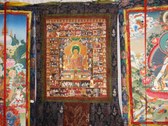 1
In many cases, we manufacture goods with our own directly-employed workers. Our work relationship in Nepal is ongoing year-round--we essentially have a full-time manager in Kathmandu to negotiate and maintain contact with workers, to collect goods, pay workers, and to check quality. We have product development trips a couple times a year as well.
In many cases, as with raw silk items, we buy the raw material directly and supply it to knitters and weavers whom we employ in cottage industry or small handicraft factory situations. Workers are paid fairly in Nepal, at the time goods are delivered usually. We then import to the USA and wholesale handicrafts nationally and internationally. For twelve years, the ongoing regular nature of our business has helped support the handicrafts industry of Nepal by supplying work and jobs. This industry and tourism were the two biggest industries in Nepal.


2
Both industries were decimated in the last decade of political strife and rebel warfare that caused major economic disruptions and curtailed foreigners from visiting. We maintained our business throughout this difficult time, which would not have been possible if we didn't have ongoing, established relationships with many people in Nepal. For several years now, a peace process has been underway in Nepal, with all political factions trying to find solutions. In April 2008, national elections took place and were peaceful to a remarkable extent. We hope the situation in Nepal continues to improve for the long term.


3
People ask us who our workers are. We work with men and women. We work with various ethnic and religious groups in Nepal, including native Nepali and Newari people (who tend to be Hindu or Buddhist), as well as foreign ethnic groups such as Tibetans from the long-established refugee community (who are Buddhist), and Kashmiri (Muslim) and other Indian workers and merchants (Hindu and Muslim). The people of modern Nepal are ethnically and religiously diverse. Traditionally and historically, Nepal was a Hindu land with Buddhism and Hinduism coexisting peacefully for centuries. The Muslim presence in Nepal is fairly new, mainly due to immigration from India.


4
People ask us where our workers live. Many workers live in Kathmandu itself or the neighboring handicraft city of Patan, as well as elsewhere in the Kathmandu Valley. For the past several years, with major internal warfare disruptions & transportation blockades, travel outside the Kathmandu Valley has been highly discouraged, unsafe, or impossible. It has thus not been possible for us to work with remote communities or towns outside the Kathmandu Valley. That may change in the future.

Please email us if you have further questions: EvergreenGuardian@hotmail.com