1
Here is KnD's Magilla Gorilla
"Magilla"
At 4 months old.

Here he is showing off his well balanced gait. You can see in this shot that he has proper foot placement. His back foot is going to step into the same place his front foot is leaving.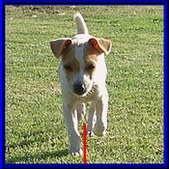 2
Here is "Magilla" again.
Here he is showing off his good convergence.

The red line is depicting the center of gravity. You can see his front and back foot almost on the red line and if you would look at his back foot furthest from you, you can see it too is in line with the center line of gravity.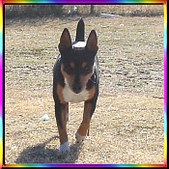 3
UKC GRCH KnD's
Diamond In The Ruff
a.k.a.
The Rock
I like this picture of Rock because, it shows he has depth of chest as well as a nice broad chest. It also shows he does NOT elbow out or toe in proving he is NOT barrel chested (see here) and it shows that he too converges.