1
This is my new favorite piece of jewelry, I never get tired of wearing it. I used some of the funky brass ox beads I carry at my site as well as stampings to which I mounted scrapbook images under magnifying lenses. I chose for the top lens a scrap of a piece of old sheet music, and for the bottom a photo of a Victorian couple. It hangs long, about 28 inches, looks great on a turtle neck with a suede jacket!
"Is this necklace for sale?..."
"this is beautiful! I want ..."
View Comments...


2
Here is a closeup of the motif of the previous necklace. Click on the photo to get a better look. It's really charming!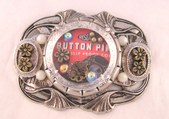 3
I used some old button and sewing papers under the glass in this deep 'pie crust' mount to make a small collage. Then I mounted the lens and glued to the top. It made the definitive 'button' brooch!
"Very unique!! I love it."
View Comments...


4
Fun and easy. Here is an image taken from a 1930's poetry book. I bonded the pie crust mount to the fancy plaque, glued in the scrap, then topped with the magnifying lens.


5
These are some items you can use to make a fun and easy photo, scrapbook or miniature collage brooch. The fancy backing piece is in the brass ox brass stampings section, the pie crust bezel and four pronged mount are in the bezels section; the art bubble or lens is in the Design Embellishments section. You make your collage in the bezel, then mount the lens in the four prong mount. Glue the bezel to the fancy backing; then glue the mounted lens to the top. Let cure, then apply the pinback....in 24 hours should be ready to wear and enjoy!
"This is a GREAT kit availa..."
View Comments...


6
A fun piece. I used a Mike's Hard Lemonade bottle cap for the central motif. Then I used graphics from the bottle's label to mount under glass cabochons as side stations and drops! Topped off with handmade lemon beads.