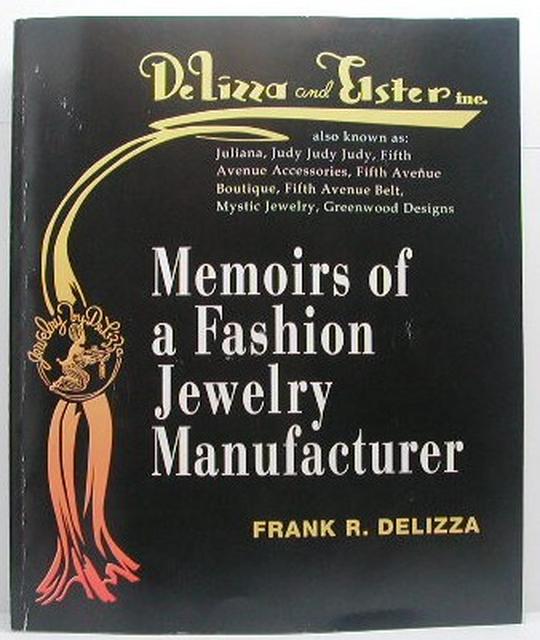 CLICK ON PICTURE OF BOOK TO READ ENTIRE REVIEWS

End of July Book Review by
Manon Kavesky

Title: DeLizza and Elster, Inc: Memoirs of a Fashion Jewelry
Manufacturer
Author: Frank R. DeLizza
Type of Book: Paperback,
Average Price: $25.00
In Print
Pages: 171
Brief Description of Book: Memoirs of a Fashion Jewelry Manufacturer
lives
up to the title. It is indeed a memoir of a lifetime in the jewelry
business. Frank DeLizza shares interesting background stories and
anecdotes
about the rise and rise of a family business from the late 1940's to
the
1990's. His memoir is written in a chatty or conversational style and
it
sounds as if you are talking to the author! (According to Cheryl
Killmer!)
There are lots of photographs and illustrations. Many of the photos are
from
family albums putting faces to the names in this book. There are also
photos
of jewelry in black and white and color. There are magazine spreads and

there are concept sketches of the jewelry pieces.

Quantity of Illustrations: For a memoir, this is highly illustrated!
Score: 7

Quality of Illustrations: 7

B/w and color illustrations: The color illustrations are very good
quality
but there is only a few pages of color. Most of the illustrations are
black
and white they get the "idea" of the pieces across. However, DeLizza
and
Elster jewelry is so super-color saturated it is a pity that there is
not
more color included in the book.

Color Photos: 7
Score: 7

Quantity of Information: Tons
Range of Information offered: Everything from findings selected to the
unionization of Mr. Delizza's business.

Is the information thorough? I think so!

Comments: Again this is a memoir, a lot different from the usual
collector
books that we review in this column.
Score: 7

Quality of Information: It is his story and it is great that he had the

perseverance to set it down on paper to share with the world.
Score 7

Values Listed (Prices) No

User Friendly:
Is the book easy to read? Yes, easy to read

Average score: 7

Is this book a must have? For Juliana collectors, yes.

Overall comments: This book is available through Frank DeLizza's
website
http://jewelrybydelizza.com and not through other usual venues such as
Amazon.com or your local bookstore.
Photo 45 of 130, dscn7957b.jpg, 52KB, 540x640, 51 Hits
Other Sizes:
Original
Medium