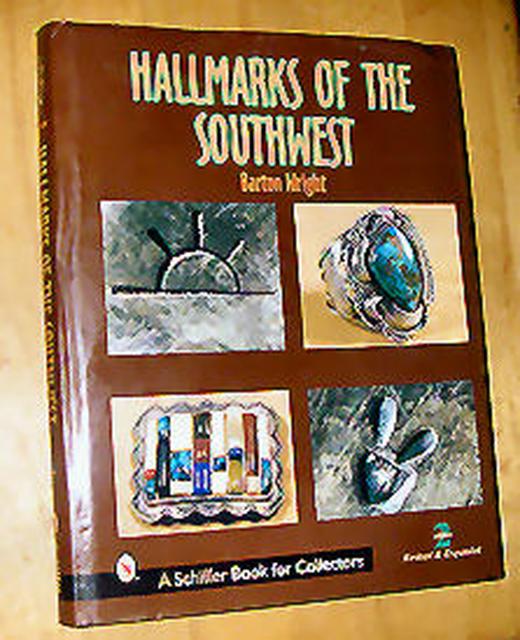 PLEASE CLICK ON PICTURE TO READ ENTIRE REVIEW

BY MANON KAVESKY

Title: Hallmarks of the Southwest
Author: Barton Wright
Type of Book: Hard Cover
Average Price: List $45.00 better pricing available on Amazon.com starting at $29.00
In Print: Yes
Pages: 271

Brief Description of Book: A large hardcover book that focuses on the Hallmarks of Southwestern silversmiths and other tribal artists. All tribes are included as well as a few Anglo artists. Hallmarks of the Southwest is an encyclopedia of marks and when known the entry is filled out with little biographies, tribal affiliation, dates, materials and styles and other details. The marks are line drawings. There are a few pages of color photos at the beginning of the book, but if you want a juicy book of silver and turquoise this is not it. It is a hard-working reference book.

Quantity of Illustrations: This is an encyclopedia
Score: 8

Quality of visual material: Gets across the intended message and information
B/w: almost all material is black and white line drawings
Color Photos: a few
Score: 8

Quantity of Information: Thumbnail sketches on hundreds and hundreds of artists
Is the information thorough? I think so; this is a second edition.

Comments:
Score:

Quality of Information: I can't judge this
Accuracy (Mistakes?)
Comments
Score

Values Listed (Prices) No
Comments:
Score

User Friendly: Yes
Is the book easy to read and follow? Individual entries alphabetical arranged
Is there a table of contents? Yes
Is information easy to find? Sometimes
Score: 8

Average score: 8
Is this book a must have? At $45.00 not really a must have. Of course, if you are really into Native American jewelry you will probably use this regularly and then the cost will make more sense. It is an important document but a dry list of information. Encourage your librarian to buy it!
Photo 20 of 130, Hallmarks1_1.jpg, 62KB, 520x640, 20 Hits
Other Sizes:
Original
Medium