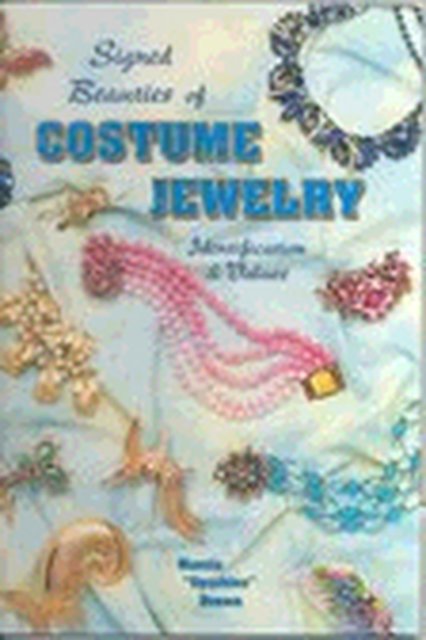 Mid May Book Review by Sam Mitchell

Title: Signed Beauties of Costume Jewelry Identification and Values

Author: Marica "Sparkles" Brown

Type of Book: Hard Bound

Average Price: List Price $24.95 on sale at Amazon.com for $16.47

In or Out of Print: In print

Number of Pages: 270

Brief Description of Book: This book is the second in a series of two books ( the first Unsigned beauties of Costume Jewelry) Where Marica helps you to learn the basic*s of costume jewelry and to identify quality pieces for your collection.



This book moves you into the next level of collecting quality Signed jewelry.



NOTE: Reviews Based on the following Scoring Measure:

1 Being "Forget It" and 10 Being "Must Have"



QUANTITY OF PICTURES:

Comments: Lots of pictures, more pictures of some makers then you would find in most books.

SCORE: 8



QUALITY OF PICTURES:

Black and White Pictures? None

Color? All pictures are in color.

How good are the pictures? Average quality pictures

Are there close ups of the marks? There are no pictures of marks because the book is not about marks, although there are a few pictures of jewelry with hang tags.

Comments: A hodge podge of picture quality from very good to bad.

SCORE: 5



QUANTITY OF INFORMATION:

Range of information offered?

Is information thorough? Yes

Comments: I thought that the information offered was just right for the makers in the book.

SCORE: 8



QUALITY OF INFORMATION:

Accuracy (are there mistakes?):

Comments: The accuracy of the information seems to be very good. I have owned this book for three years and picked up a few tidbits of information on some of the makers that I had not seen before.

SCORE: 8

VALUES LISTED:

Are they helpful or realistic?

Comments: The book includes a disclaimer in the front of the book that tell you to use the values as a guide only. Overall I thought the prices were pretty good.

SCORE: 8



USER FRIENDLY: I had to break up this category and below is why.

Is the book easy to read and follow?

Are things easy to find (Table of contents)? The books table of contents does really well leading you through the makers in a very unique way different from other books. I really liked it!

Are things easy to find (Index)? WOW what happened here! Lots of mistakes here.

Comments:

SCORE Table of contents: 8

SCORE Index: 2



TOTAL AVERAGE SCORE 6.7



Is this a must have book? Yes



Overall Comments: Quality like Beauty is in the eyes of the beholder. I bought this book 3 years ago and at first did not like it, but I have come to appreciate what Marica was doing with the book.



There will be a lot of disagreement over who made quality jewelry. You will notice that Marica put Eisenberg as the first jewelry maker in the book, and while you may disagree, Eisenberg was some of the highest quality and durability in the costume jewelry world.



One jewelry maker noticeably absent from the book is Coro. Some people may be shocked by this, but overall Coro did not make quality jewelry.



The book also has a excellent section on Har, Regency, and Tortolani which are becoming very collectible.
Photo 122 of 130, book review 3.bmp.jpg, 0KB, 426x640, 0 Hits
Other Sizes:
Original BMP
Medium