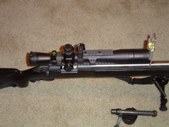 1
Barrel/Scope level in place setting up ACD
Rifle M700 .223 1-8 twist 30" Krieger match barrel with Leupold Mk 4 16X with fine wire and mil dots. Swan/Mounting Solution Plus QT rings and mount, Sniper Tools angle cosine indicator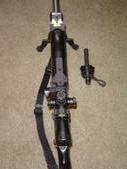 2
Setting bubble of barrel & scope level to ACD at rear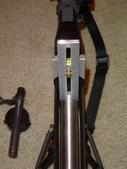 3
Barrel scope level looking from the front back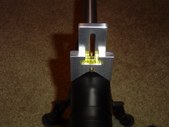 4
Bubble'... once B&S is set it locks into place looking rear to front.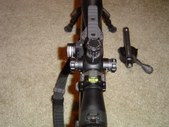 5
Locking ACD to B&S bubble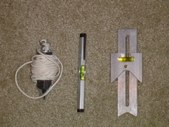 6
Plumb with line, machine level and barrel scope level and EXD Engineering Vertical Reticle Instrument. It help to drop the plumb line about 25 yards away. Make usr you use a claen white plumb line.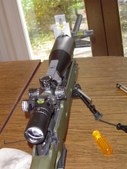 7
My .308 Win Rem700 with Krieger 1-11.5 twist match barrel, NightForce NSX 5.5 22x50 Accuracy International folder stock, Mounting Solutions Plus ACD anti-cant device , Sniper Tools Cosine Indicator, Warne Scope Mounts maxima tactical side mount adapter, A.R.M.S QD rings and mount from MSP's Smith work by George Vais. Harris bi-pod, total package with ten round magazine come in at 16 pounds.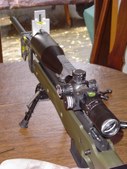 8
Here's another tools that works quite well for setting up scope bubbles, cosine device, reticle cant and bore scope alignment all at the same time, along with a plumb. Used in conjunction with EXD Engineering Vertical Reticle Instrument bubble…. it work great. It's the Empire Magnetic Post and Pipe level…. Which can be magnetically attached to the barrel'…, scope/rings, or action even with open sights. It let's you see the cant in four directions while I work on the others'…, it's been verified with the EXD.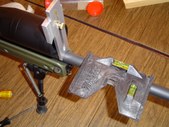 9
Empire Magnetic Post and Pipe level placed on barrel. Make sure you set the Empire with the reading from the EXD after obtaining the correct cant.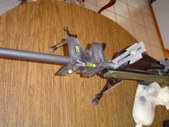 10
Another shot of Empire Magnetic Post and Pipe level with EXD level on scope and barrel. The EMP allows you to bring the center of the bore close to a perfect level to set the Sniper Tools Cosine Indicator which needs to run off the bore.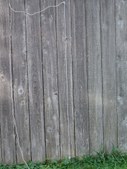 11
You've got to have a plumb line, again 25 yards plus. It's really better at 100 yards do to parallax problems with high magnification of tactical and target scopes.