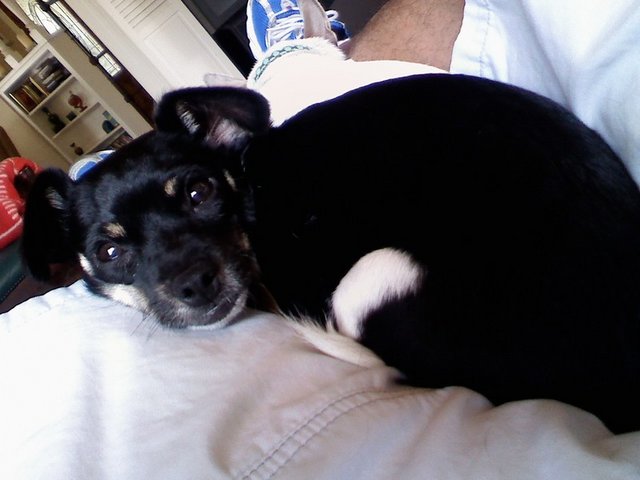 RASCAL

Ed laughed right out loud when I asked if Rascal had adjusted well with his new family." RASCAL---he's every bit a Rascal, he sure is"... Rascal is a cuddler and a snuggler; he wants to be as close to Ed's face as he can get. When Ed sits down, Rascal leaps onto his lap and scampers right up his chest to rest his little head right on Ed's chin...the closer the better. Ed slides him down to his lap, picks up the paper, and by the time he gets his paper shook out from the rumples that a flying Rascal has caused, Rascal has scaled his chest again, determined.

Ed and Vivian have huge hearts for dog rescue - Rascal is their fourth dog from rescue at this time. It is a family tradition to provide love and safety for the abandoned.

Rascal lives with his family the Valenzuelas in West Covina, California.
"DEAR FRIEND. HOW ARE YOU DOING? I WILL WANT US TO DISCUSES REAL, GOOD BUSINESS.MAIL BELOW IS MY INFORMATION'S MR MUSTAPHA HAMMED EMAIL:mohammedkadir2008@yahoo.fr Direct Phone:+233 23220 2281" --
MUSTAPHA
, 08/19/12
Photo 27 of 43, RASCAL-VALENZUELA RESZD.jpg, 42KB, 640x480, 189 Hits
Other Sizes:
Medium
Original