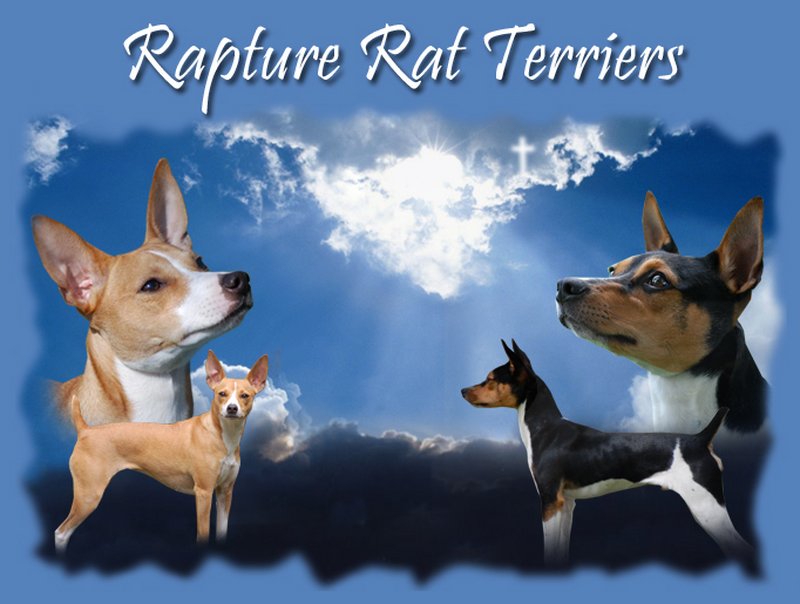 Welcome to Rapture Rat Terriers

Rapture Rat Terriers is located on the beautiful Monterey Bay of California. I am delighted to share my dogs and their accomplishments. They have brought such joy to my life. Feel free to contact me at Rapture Rat Terriers

Rat Terriers

The Rat Terrier is a fabulous all around dog. They are wonderful companions who love being with their people. Rat Terriers are fierce hunters and will gladly keep your home safe from vermin. They have tremendous prey drive and are a lot of dog in a little package. One of their most endearing qualities is their delightful personalities. They are often referred to as "Clowns" and for anyone who owns or knows a Rat Terrier they will vouch for the tremendous source of joy they are. Concise it to say I fell in love with the breed.

My Dogs

My dogs are all UKC\AKC FSS Dual Registered Type A Standard Rat Terriers.

My dogs are first and foremost beloved pets. They live in my home and are part of the family. We show our dogs in Conformation with future plans to participate in Obedience, Rally, and Agility. The activities I do with my dogs are a passionate hobby of mine and not a business venture.

Breeding Plans

Occasionally I will produce a litter of puppies. Each litter will be carefully planned well in advance with the goal of producing offspring of superior quality, health, structure, and balance.

We at Rapture Rat Terriers strive towards this goal by selectively choosing our foundation dogs, carefully planning any and all breedings, OFA testing our dogs, DNA profiling for your protection, and providing optimal nutrition.

A Special Thank You

My journey has brought so many wonderful people into my life each of which has helped me in their own special way. Their love of the Rat Terrier breed is contagious. I shall be forever grateful for the kindness and support shown me by these individuals. My show buddies have become friends and an endless source of happiness and laughter not to mention tears, worry and frustration. You have all enriched my life and made it fuller. Rat Terrier Breeders are a passionate group with a fierce love of their breed.

A very special thank you goes out to Debbie Glaspey for being the catalyst I needed to bring Jesus, our Lord and Savior, back into my life. God is smiling on you. Without God, we would not be here to enjoy this journey.

~In Loving Memory~

Archie was my best friend's Rat Terrier, often referred to as her "little man". He was the first Rat Terrier I knew and stole my heart with his rattitude. He was a loving, faithful, and protective soul. He was greatly loved and is missed by his family.





I am currently the Membership Secretary for ARTA. Please feel free to contact me with any questions you may have about ARTA or about joining.




"OUR DOGS DO STUFF"

UKC Illustrated Breed Standard


In addition we are members of The Rat Terrier Club of America (RTCA) and Volcano View Rat Terrier Club (VVRTC)





Links



1 - 6 of 6 Total.
3.

Rapture Rat Terrier Bred Puppies (February 7, 2010)

This album contains pictures of puppies bred here at Rapture Rat Terriers.

Thank you to all the wonderful families who are loving our puppies. Enjoy!!

704 Visits
56 Images


Shared Album

4.

Fun Times (December 24, 2007)

Here are photos of the dogs playing and just having a fun time.

4882 Visits
105 Images


Shared Album

5.

Archie (June 21, 2006)

Archie Dixon (In Loving Memory)
12-18-96 to 3-19-06

Best Friend, protector, and a good boy.
We miss you every day; Your bark, how you would attack the TV screen at every creature on the Animal Planet station, the tricks you would do for chicken, the way we would read the paper together every morning, your proud walk, and how you would snuggle at our feet.

Love Brenda, Ila, and Kristi Dixon.

1327 Visits
9 Images


Shared Album

6.

Other Pets (May 24, 2006)

These are my beautiful cats that will be sharing a home with the Rat Terriers. They believe the dogs are just silly creatures and certainly not as dignified as themselves.



3 Albums


Shared Folder