 enlarge 4KB, 799x535
1
Long-Exposure Noise Test
(Original is 1.6MB)
Black frame: 30 seconds at ISO 800, high-ISO noise reduction set LOW, long-exposure noise reduction set OFF.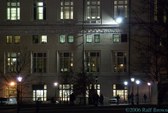 enlarge 100KB, 800x537
2
18-200VR Stabilization Test
Handheld 1/6 second at 300mm equivalent focal length (over five stops slower than 1/fl rule of thumb). ISO 800, shot in RAW and converted without noise reduction.