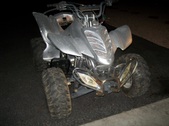 1
2007 Loncin 110cc ATV Quad..
Donor for Barbie Power Wheels Gas Powered Conversion.

Non Running Complete off of Craigslist for very cheap price, cleaned carb, cleaned tank added battery and runs like new... 3 foward gears, and reverse, semi-auto clutch.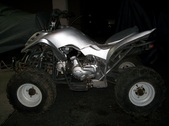 2
Seems to have very low hours, tires are like new...I was really suprised how well it runs after some love... Had to make sure engine and trans all good.... Runs like new! Score! Seems it did more sitting rotting out in the sun then anything, last owner sprayed silver paint all over the sun rotted plastic and got over spray everywhere... Seems all the switches and wiring is sun baked and brittle...off all that goes in the trash....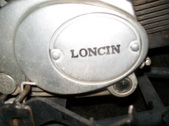 3
Is that how you spell Honda? Damn Chinese manufactures can knock off anything.... Labor pay for one worker is 2 fisheads in a bowl of rice for a days work, no wonder they can make these at cost $250.00 each new for a lot of 50 in a sea crate....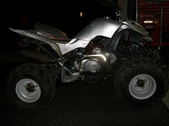 4
Building my Chinese made Barbie Power Wheels with a Chinese made quad using my chinese harbor Frieght welder and tools.... lol...wonder why our economy is in the toilet and no jobs....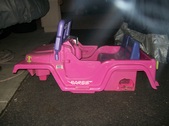 5
Neglected Barbie Jammin Jeep Power Wheels, found up the street from me next to dumpster, stripped all the broken stuff from it. This is what got me thinking about building a gas powered power wheels.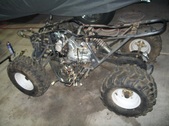 6
Stripped down quad, looking at the steering and such that will need to modded. I see why now you can purchase a brand new Chinese 110cc quad for less then 600 bucks, it looks like they free welded the frame with no jig, all the frame tubes and brackets are crooked as hell...lol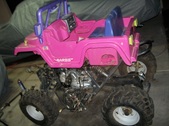 7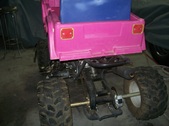 8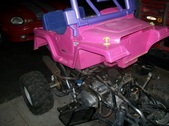 9


10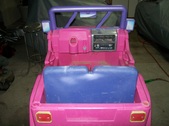 11
lol...12 volt Barbie Jeep is small, next build will be an Escalade or Hummmer or the larger Power Wheels Jeep Hurricane if can find these cheap....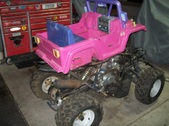 12
Have alot of cutting I see to make it fit.....
This is last pic, Jeep is on the down side of being done now, will post pics after finished with running mock up before tear down again to paint frame, engine and wheels.....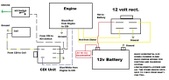 13
Basic wiring for ignition and charging system 110cc Chinese ATV Quad E 22 Honda Horizontal Clone Engine. 5 pin AC Fire CDI Ignition.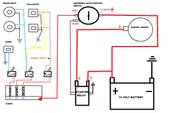 14
Basic starter and lights wiring diagram I made up for 110c Loncin ATV Power Wheels.

Chinese made ATV's and Quads have just plain crappy wire and connectors, big rats nest of crap... all yanked and being rewired with good connectors and wire the correct way....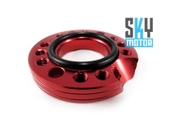 15
Since I layed down the steering shaft the carb was in the way, Loncin intake manifold and carb face forward, I bought the adaptor and now carb is turned to 4 o"clock postion on the right side, can fit a cone 35mm air filter with ease now.... $15.00 shipped Ebay and $1.00 for 6mm machine screws to mount.....

Found under Pit Bike search on Ebay... Seems alot of stuff for Pit Bikes as they are really popular