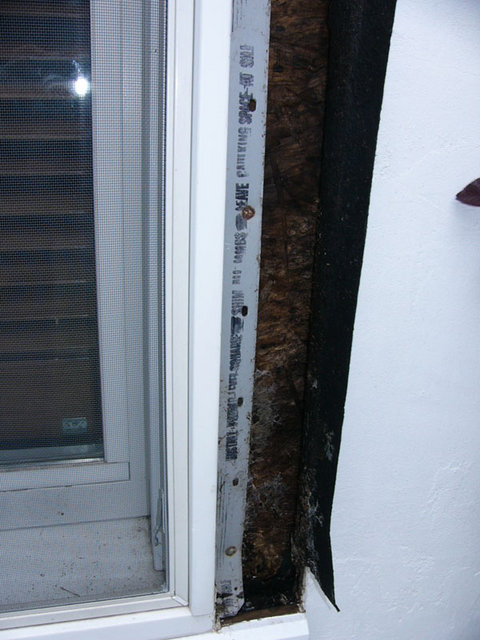 Exploratory Surgery
To confirm our suspicions that the lack of head flashing over the windows was the problem, we pulled off the wood trim around the window with the worst staining (the one you see in picture 6). Here's what we found. The OSB was completely shot - I could stick my finger through it. The black is rotten wood, the white is mold. Yum.

At this point, we decided the best course of action was to remove the stucco, repair the damage, and reside the house in Hardieplank fiber-cement siding. We hoped this would keep the historical look (it looks like wood clapboard) but eliminate the moisture intrusion problems with the stucco.

We got a bunch of quotes and ended up going with a builder who was going to charge $30K for removing the stucco, installing the Hardieplank, and replacing all the wood window trim with Azek (a PVC composite material that looks like wood but doesn't rot). Any sheathing or structural repairs would be done at additional cost for time and materials.
"You can also see that the window opening was not wrapped properly with the tyvek or house wrap as is required for all sidings but especially stucco and eifs. The wrap should totally enclose the opening and wrap inside the frame prior to the window being installed." --
scott b
, 10/13/06
Panasonic DMC-FZ1
Hide EXIF / IPTC
| | |
| --- | --- |
| Compression | JPEG compression |
| Make | Panasonic |
| Model | DMC-FZ1 |
| Orientation | top, left side |
| X Resolution | 72 dots per inch |
| Y Resolution | 72 dots per inch |
| Resolution Unit | Inch |
| Software | Adobe Photoshop CS Windows |
| Date/Time | 2005:09:30 13:01:49 |
| Thumbnail Offset | 1126 bytes |
| Thumbnail Length | 4076 bytes |
| YCbCr Positioning | Datum point |
| Exposure Time | 1/200 sec |
| F-Number | F4 |
| Exposure Program | Program normal |
| ISO Speed Ratings | 50 |
| Exif Version | 2.20 |
| Date/Time Original | 2005:05:26 13:06:04 |
| Date/Time Digitized | 2005:05:26 13:06:04 |
| Components Configuration | YCbCr |
| Compressed Bits Per Pixel | 3.4 bits/pixel |
| Shutter Speed Value | 1/128 sec |
| Aperture Value | F4 |
| Exposure Bias Value | 0 |
| Max Aperture Value | F2.8 |
| Metering Mode | Multi-segment |
| Light Source | Flash |
| Flash | Flash fired, compulsory flash mode |
| Focal Length | 4.6 mm |
| FlashPix Version | 1.00 |
| Color Space | sRGB |
| Exif Image Width | 600 pixels |
| Exif Image Height | 800 pixels |
| Sensing Method | One-chip color area sensor |
| File Source | Digital Still Camera (DSC) |
| Scene Type | Directly photographed image |
| Custom Rendered | Normal |
| Exposure Mode | Auto |
| White Balance | Auto |
| Digital Zoom Ratio | Digital zoom not used |
| Focal Length 35 | 35.0 mm |
| Scene Capture Type | Standard |
| Gain Control | None |
| Contrast | Soft |
| Saturation | Low |
| Sharpness | Soft |
| Subject Distance Range | Unknown |
| Thumbnail Data | [4076 bytes of thumbnail data] |
Photo 9 of 410, sm_IckBehindTrim2.jpg, 67KB, 480x640, 681 Hits
Other Sizes:
Medium
Original