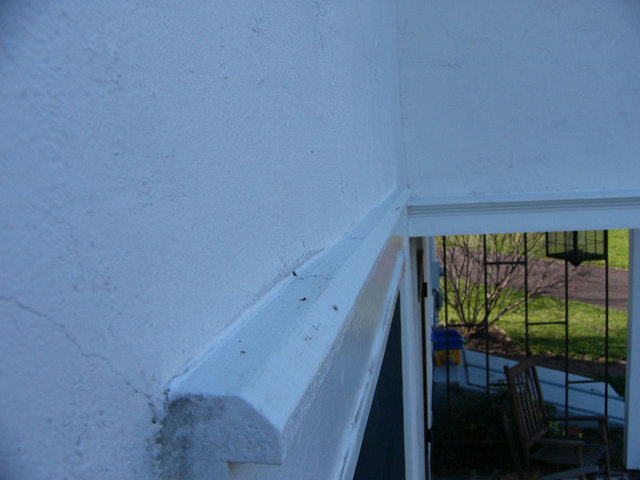 Drip Cap
We had a mold inspector out who confirmed that the smell indicated that there was moisture and mold in the wall cavities. We contacted a moisture intrusion specialist who came out and immediately pointed the finger at our stucco.

He said that stucco over wood framing was vulnerable to cracking and moisture intrusion, and that OSB, the sheathing they used behind our stucco, is very susceptible to rot and mold. He said that even the tiny "superficial" cracks in our stucco can wick in huge amounts of water, and that since we have no weep screed, there is no way for water to drain out once it gets in.

He also noted details like the drip caps over our windows - note that there's no metal flashing, so only a layer of caulk keeps the water out. This cap should also be sloped to drain water - it's not. Water collects on the surface and drips into the wall through any gap in the caulk.
Panasonic DMC-FZ1
Hide EXIF / IPTC
| | |
| --- | --- |
| Make | Panasonic |
| Model | DMC-FZ1 |
| Orientation | top, left side |
| X Resolution | 72 dots per inch |
| Y Resolution | 72 dots per inch |
| Resolution Unit | Inch |
| Software | Adobe Photoshop CS Windows |
| Date/Time | 2005:09:30 13:01:59 |
| YCbCr Positioning | Datum point |
| | |
| --- | --- |
| Exposure Time | 1/250 sec |
| F-Number | F4 |
| Exposure Program | Program normal |
| ISO Speed Ratings | 50 |
| Exif Version | 2.20 |
| Date/Time Original | 2005:04:16 16:22:28 |
| Date/Time Digitized | 2005:04:16 16:22:28 |
| Components Configuration | YCbCr |
| Compressed Bits Per Pixel | 3.4 bits/pixel |
| Shutter Speed Value | 1/128 sec |
| Aperture Value | F4 |
| Exposure Bias Value | 0 |
| Max Aperture Value | F2.8 |
| Metering Mode | Multi-segment |
| White Balance | Daylight |
| Flash | No flash fired, auto mode |
| Focal Length | 4.6 mm |
| FlashPix Version | 1.00 |
| Color Space | sRGB |
| Exif Image Width | 800 pixels |
| Exif Image Height | 600 pixels |
| Sensing Method | One-chip color area sensor |
| File Source | Digital Still Camera (DSC) |
| Scene Type | Directly photographed image |
| Custom Rendered | Normal |
| Exposure Mode | Auto |
| White Balance Mode | Auto |
| Digital Zoom Ratio | Digital zoom not used |
| Focal Length 35 | 35.0 mm |
| Scene Capture Type | Standard |
| Gain Control | None |
| Contrast | Soft |
| Saturation | Low |
| Sharpness | Soft |
| Subject Distance Range | Close view |
Photo 7 of 410, sm_DripCapProfile-NoSlope.jpg, 46KB, 640x480, 786 Hits
Other Sizes:
Medium
Original