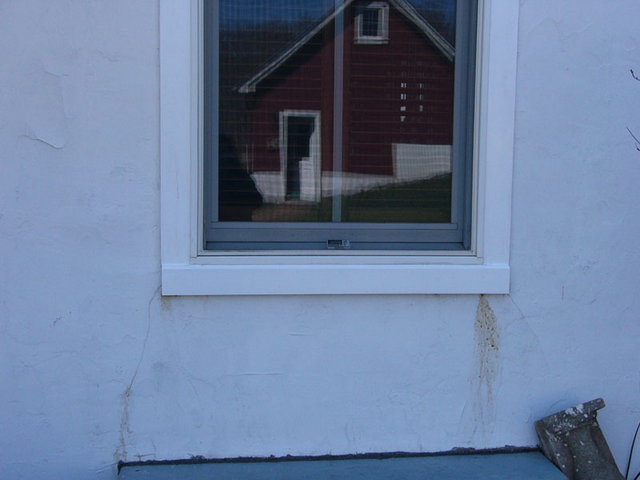 This is the worst staining
It's on the dining room window above the bilco doors on the Left Side of the house. As you'll see shortly, the wall behind this window was essentially falling apart from moisture intrusion and rot, yet our inspector pronounced this kind of stain "normal" and said we needed to caulk.

Incidentally, we can't sue the inspector because our contract with him says all suits must be filed within a year after the inspection. It took us 2 years to find this. Bummer, huh?

So in spring 2005, we started smelling a musty smell (like wet dirt) in several rooms. The master bedroom, our son's room, the laundry room, and the family room were the worst, but we could smell it in just about every room. We traced the smell to the electrical outlets - if we took the plates off, we could smell it coming out of the walls. The screws inside the outlet boxes (that held the outlet to the box) were all rusty as well.
"California home inspectors are actually bond by state law to a 4 year liability, regardless of their contract." --
R. Daniel
, 02/29/08
"I'm a Level II Thermographer, a certified ASHI Home Inspector, and certified by EDI & Moisture Warranty Corp. to do EIFS & stucco inspections. I feel your pain. I see this often. I'm not defending bad home inspectors but I must ask. Was this an inspector your agent recommended / offered. If it was, that was your first mistake. Second, the home inspection is a visual inspection. Stucco can look great but have serious problems as you found out.Staining is an indication and with sufficient knowledge and additional evidence it would be a red flag for sure but if that is all that was visible it would not be considered a "material defect". If the inspector raises a question about a "stain" that causes the agent problems, he doesn't get any more business from that agent. It is only in the last couple of years that home inspectors are becoming aware of the prevalence of stucco problems. Because, like your case, they usually don't become visible / noticeable for several years. We have to fundamentally change the way we build houses in this country. It's called building science. Not only to prevent cases like yours but also to reduce their energy consumption." --
Herb
, 06/10/10
Panasonic DMC-FZ1
Full EXIF / IPTC
Photo 6 of 410, sm_StainingUnderDiningRoomWindow.jpg, 42KB, 640x480, 2471 Hits
Other Sizes:
Medium
Original