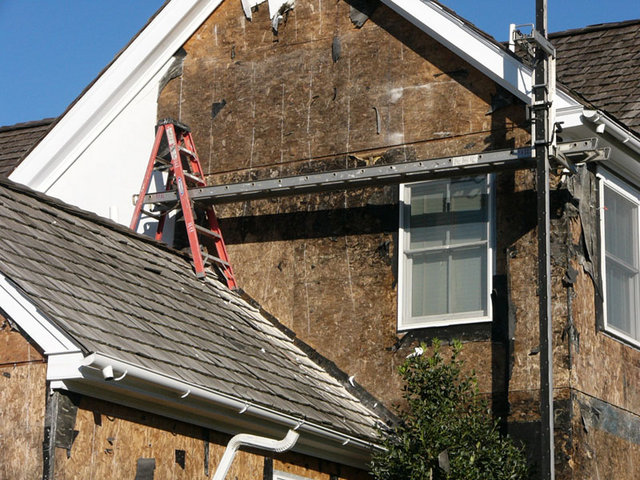 Entire Rake Wall - Another Mystery
Here is anothe view of the rake wall. The rot in the previous picture is mostly hidden behind the bush at the bottom of the window. But why all that discoloration in the peak? Note that the discoloration is present everywhere except very close under the eaves - again indicating that the stucco exposed to any kind of rain was just leaking like heck. Was it cracked? Just too porous? Your guess is as good as mine!

Note too the line of rot running horizontally to the left of the window, right behind the scaffolding. Again, why there? It seems to begin at the gap in the OSB sheets and run downwards. There is a master bedroom shower a few feet to the left of the window and the vent fan runs horizonatally through the ceiling above the window - perhaps this is some kind of condensation thing from the attic if the vent duct is leaking? But the damage seems to originate from the outside in. Who knows?? Suggestions are welcome - add your comments below!
"This is most likely caused by the tar paper or drainage plain being overlapped the wrong direction. The stain occurs at the right width as the tar paper comes in 4 foot sections. looks like a crew of inexperienced installers to me. Unfortunatley very common." --
Bob
, 01/01/07