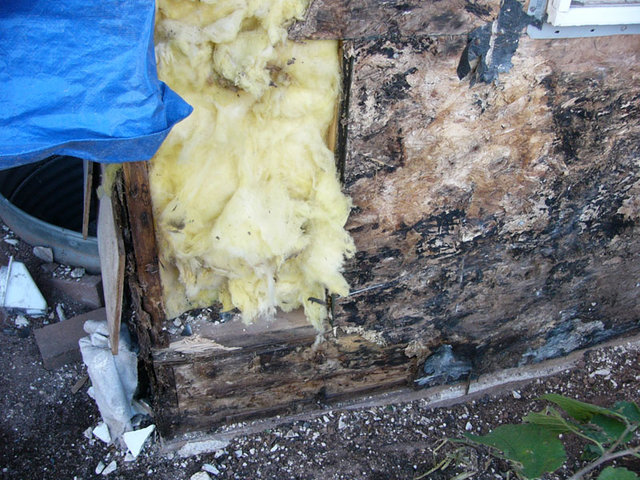 Further down the wall
This is the area next to and below the lower window in the previous picture. The further down the wall, the more rot. Here the OSB just flaked off if you touched it. As the contractor was using a prybar on the stucco, it was sinking through the OSB.

Oh, and did I mention that the grading was done wrong as well? Because the stucco continued directly down from the framing over the foundation with no weep screed, it was impossible to tell from the exterior where the foundation stopped and framing began. When they did the final grading, they buried the rim joist partially in the dirt. This is what happens when you bury a rim joist.
Panasonic DMC-FZ1
Hide EXIF / IPTC
| | |
| --- | --- |
| Make | Panasonic |
| Model | DMC-FZ1 |
| Orientation | top, left side |
| X Resolution | 72 dots per inch |
| Y Resolution | 72 dots per inch |
| Resolution Unit | Inch |
| Software | Adobe Photoshop CS Windows |
| Date/Time | 2005:09:30 12:32:02 |
| YCbCr Positioning | Datum point |
| | |
| --- | --- |
| Exposure Time | 1/60 sec |
| F-Number | F2.8 |
| Exposure Program | Program normal |
| ISO Speed Ratings | 100 |
| Exif Version | 2.20 |
| Date/Time Original | 2005:09:29 16:59:24 |
| Date/Time Digitized | 2005:09:29 16:59:24 |
| Components Configuration | YCbCr |
| Compressed Bits Per Pixel | 3.4 bits/pixel |
| Shutter Speed Value | 1/32 sec |
| Aperture Value | F2.8 |
| Exposure Bias Value | 0 |
| Max Aperture Value | F2.8 |
| Metering Mode | Multi-segment |
| White Balance | Unknown |
| Flash | No flash fired, compulsory flash mode |
| Focal Length | 4.6 mm |
| FlashPix Version | 1.00 |
| Color Space | sRGB |
| Exif Image Width | 800 pixels |
| Exif Image Height | 600 pixels |
| Sensing Method | One-chip color area sensor |
| File Source | Digital Still Camera (DSC) |
| Scene Type | Directly photographed image |
| Custom Rendered | Normal |
| Exposure Mode | Auto |
| White Balance Mode | Auto |
| Digital Zoom Ratio | Digital zoom not used |
| Focal Length 35 | 35.0 mm |
| Scene Capture Type | Standard |
| Gain Control | None |
| Contrast | Soft |
| Saturation | Low |
| Sharpness | Soft |
| Subject Distance Range | Unknown |
Photo 16 of 410, sm_RimJoistDamage.jpg, 118KB, 640x480, 969 Hits
Other Sizes:
Medium
Original