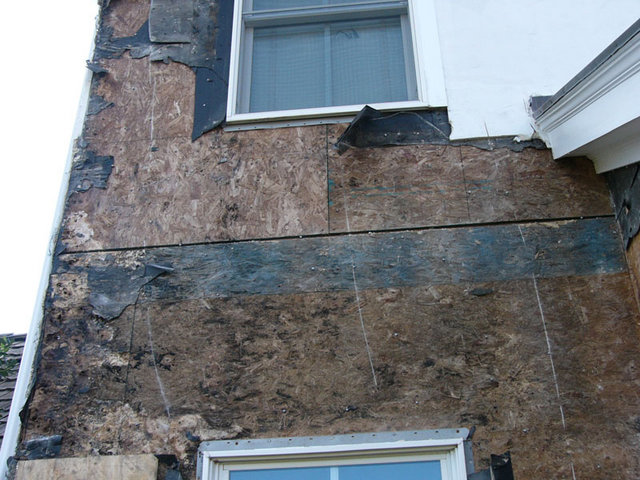 Let the Fun Begin....September 2005
Now it's time to tear off the stucco and see what really lies beneath. We're starting on the left side of the house (see picture 2 above).

OK, so when the tearoff began, we expected to find areas of rot below every window (thanks to the lack of head flashing and j-bead around the trim). We thought there might be a little bit of rot under some of the bigger cracks. We were not prepared for the whole wall to be rotten, but that is what we found. This is the area below the 2nd story window to the left of the porch on the left side of the house. We expected the line of rot directly under the edge of the top window, but we have no idea why the corner is rotted so badly.
Panasonic DMC-FZ1
Hide EXIF / IPTC
| | |
| --- | --- |
| Make | Panasonic |
| Model | DMC-FZ1 |
| Orientation | top, left side |
| X Resolution | 72 dots per inch |
| Y Resolution | 72 dots per inch |
| Resolution Unit | Inch |
| Software | Adobe Photoshop CS Windows |
| Date/Time | 2005:09:30 12:33:16 |
| YCbCr Positioning | Datum point |
| | |
| --- | --- |
| Exposure Time | 0.01 sec |
| F-Number | F4 |
| Exposure Program | Program normal |
| ISO Speed Ratings | 50 |
| Exif Version | 2.20 |
| Date/Time Original | 2005:09:28 15:53:57 |
| Date/Time Digitized | 2005:09:28 15:53:57 |
| Components Configuration | YCbCr |
| Compressed Bits Per Pixel | 3.4 bits/pixel |
| Shutter Speed Value | 1/64 sec |
| Aperture Value | F4 |
| Exposure Bias Value | 0 |
| Max Aperture Value | F2.8 |
| Metering Mode | Multi-segment |
| White Balance | Daylight |
| Flash | No flash fired, compulsory flash mode |
| Focal Length | 5.6 mm |
| FlashPix Version | 1.00 |
| Color Space | sRGB |
| Exif Image Width | 800 pixels |
| Exif Image Height | 600 pixels |
| Sensing Method | One-chip color area sensor |
| File Source | Digital Still Camera (DSC) |
| Scene Type | Directly photographed image |
| Custom Rendered | Normal |
| Exposure Mode | Auto |
| White Balance Mode | Auto |
| Digital Zoom Ratio | Digital zoom not used |
| Focal Length 35 | 42.0 mm |
| Scene Capture Type | Standard |
| Gain Control | None |
| Contrast | Soft |
| Saturation | Low |
| Sharpness | Soft |
| Subject Distance Range | Unknown |
Photo 15 of 410, sm_AboveLaundryRoomWindow.jpg, 90KB, 640x480, 982 Hits
Other Sizes:
Medium
Original