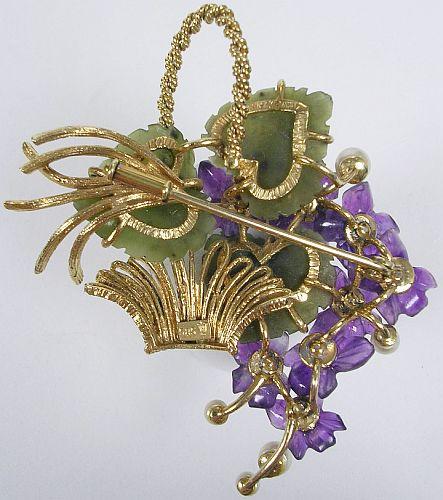 Knoll & Pregizer KP 14K Violet Diamond Basket Brooch
The back of the brooch. German companies used the trombone safety clasps on occasion which is almost always considered a characteristic of French jewelry, although since I have now seen many similar KP flower brooches of for sale,also using ordinary regular rolling clasps as well, they just probably used whatever pin was handy. And I have seen other German companies used the trombone clasp, it proves it is not unique to KP. These pins are not rare. I have seen at least 5 of them so far since posting this piece. Where there's five (and earrings) trust me, there are many, many more out there.

Since it is marked West Germany and because of the motif and that is was made in gold with real stones, I think this dates the piece to the 1960s-1970s,towards the end of their production to keep them afloat. This one has subsequently been sold.
Copyright ©2018 Robin Deutsch All Rights Reserved.

Photo 66 of 124, wgcarved14k7.jpg, 41KB, 443x500
Other Sizes:
Original