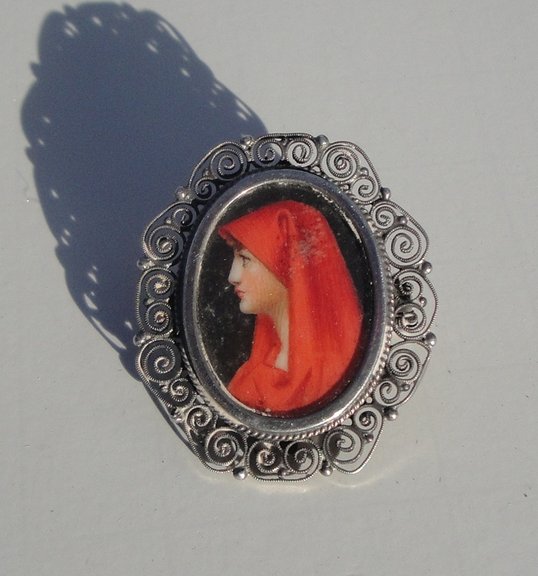 Small hand painted portrait of St. Fabiola, the Patron Saint of Abused Women. It is in a Sterling filigree mounting with a tube and safety catch on the back as well as a pendant bail. Measures 1 1/2" x 1".

This Saint was painted over and over again on different mediums, basically with the same poignant gaze. The National Portrait Gallery in London has a collection of 300 portraits amassed by a Belgium artist - Francis Alys which he has collected over the last 15 years. Most all of them are from the mid to late Twentieth Century, and created predominantly by amateurs.

HUGE THANKS to Nicole St. Pierre for the interesting and thought provoking history on this incredible 4th Century woman.
Copyright Starting Box Designs, Co. 1987-2011

Sony DSC-W290
Full EXIF / IPTC
Photo 34 of 48, nov09paintedladybest.jpg, 48KB, 538x576, 31 Hits
Other Sizes:
Medium
Original