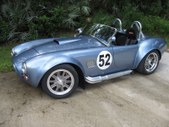 FFR Mk III -Build & Activities
I got my new Mark III Factory Five Racing kit in January, 2005. Slow getting started 'cause of finishing repairs on the '95 M3 I bent at Bay Bottom Crawl in October, 2004. My perfect wrecked 1998 Cobra Mustang "donor car" arrived in March, 2005, courtesy of Jon Alarie's efforts. Disassembly of the donor began shortly thereafter. Assembly of the FFR began in earnest around August, 2005, proceeding slowly into 2006. First start of the engine was 2-20-2006, a major moment. This build is different than my previous FFR's, as I'm using a DOHC 4.6 Ford Mod-Motor as the engine, instead of the traditional Ford small block pushrod engine. I'll post progress pics and video here; let's see how it goes.

Sept. 24, 2006 UPDATE: first test drive a total success. I'm on a mission to run this car at Sebring Oct. 5 & 6 at the 5th Annual Reptile Roundup, and it looks like we'll make it!

Sept. 30 UPDATE: Jeff Kleiner flew into town with his bag of flame-painting supplies. He spent 2 days laying out, taping and painting the coolest flame job imaginable. Pics posted of the process, and pizza and beer celebration at Zipz with the local Cobra buddies. Next stop: Sebring race track, short course Thursday and long course Friday.

October 23 UPDATE: Reptile Roundup Track Day at Sebring was as good and as bad as it gets! October 5, this car was unexpectedly well setup right off the trailer: handling, steering, brakes and engine were wonderful. We ran four 1/2 hour sessions using the alternate short course, which included the pit and back straights, plus some turns. The engine blew up a few minutes before the end of my last run session. The rotating assembly of the front four cylinders and the engine block were destroyed, from detonation caused by lean-run conditions we believe. We pushed the car on the trailer and towed home. Now for the engine rebuild...

January 2008 UPDATE: NEW ENGINE!!! Lots happened since a year+ ago. The blown engine was replaced with a new short block, stroked to 5.0, using all forged internal rotating parts, using stock donor heads, cams, and intake with bigger throttle body. This baby is built to be RELIABLE and LONG-LIVED. We Dyno tuned this time: 307 RWHP and about 300 ft lbs. torq by my calculation. Plenty to keep me busy while becoming a better track driver. I replaced the stock Bilstein shocks and 600# springs with FFR's new red adjustable Koni's, with 750# springs at all four wheels. Still no sway bars, and so far it feels controlled and solid on the street and track. Not too firm for the street. I've had Lynn and my Dad give their ride-along opinions and all are favorable. Replaced the donor radiator and fan with an aluminum FFR rad and aluminum shroud from FFMetal. Very simple install using the aftermarket electric fan supplied with the kit. No problems to date.

I plan to get some seat time at Homestead, Sebring, and Moroso in 2008, and get signed off by NASA for their HPDE-4 group. A bunch of us ran with NASA in November and again in January, and I got signed off for HPDE-3, so now to get more seat time there and move up one more notch if possible. The car is reliable, cool-running, smooth, and usually faster than anything else on track in the groups I've run with...just needs a better driver sometimes. Immediate goals: Finish the custom tonneau project, keep driving smooth and smart at the track events, and figure out a good week-long roadtrip for the spring. Thanks for looking at the page.

November 2009 Update: I love this car: the engine has been really strong and makes fantastic sounds above 5,000 rpm. I decided to stay at NASA HPDE3, and not try to advance higher or do NASA Time Trials for now. I've spent many hours at Sebring, and PBIR reopened for business about a year ago so I have tried to run there some since it's so close to home. I finished my tonneau project, got an adult paint job that gets compliments everywhere I go, and installed a set of North Racecars Team III Halibrand replica 17" wheels for street use. Present goals are to refine the car, have a few road adventures, and continue to have track fun at HPDE's run by NASA & HOD, and anyone else I can afford to run with.

January 2011 update: Wow, I never owned the same FFR so long! Still love the car, and the way she drives. Doing lots of track events with NASA and HOD, got signed off into HPDE4 with NASA, and Group A with HOD. Unlimited passing with pretty serious drivers is going to sharpen my game a lot. No more improvements are planned for the car. Best driving weekend ever was Reptile Roundup in November 2010: Older daughter Mandi came down and co-drove the FFR several sessions, with me riding in the instructor seat. Fantastic day, lots of fast laps and no disasters. She is a serious driver on track!
Date(s): Jan 2005 - Present.
Album by John Phillips.
Photos by John Phillips.
1 - 490 of 490 Total. 0 Visits.