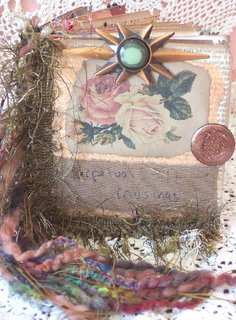 This is an altered art paste book with 11 pages ( 22 sides). I took a long time to work on this book and only did a page as I was clearing my worktable.

I enjoyed creating this book for the reason that I wasn't pressured into an exact theme. This book has many different themes. I was able to start fresh each time I worked on it.

The book measures approx 5" x 5" square and it does not close. It fans out because of all the embellishments and extra tags. and it is a very fat book. I didn't even consider making a closure for it for that reason.

Throughout the book I have stained the pages with inks, corners are decoratively finished and many layers of design papers, vintage image reproductions, embellishments trims lace and more!


Please see the photos below.


Click on any photo to enlarge.



The front cover: Has the title Perpetual Musings written on scrap fabric piece with assorted vintage repro images and design papers. Embellished with assorted trinkets, and finished with many fibres and beaded trim.

Page 2 I have written: A collection of thoughts, images and pretty things gathered from my stash and private collection. I am never sure exactly where I am headed when I start, but I always know when I am done.

Page 3 I wish I was a butterfly, has a butterfly tag changed to the page so it won't fly away.
Page 4 Fairies are everywhere in the garden of life. I have captured a fairy for you to see and she too is chained to the book.
Page 5 Is the front side of an envelope with an art card inside. It has a lace bow tie and I have slipped a small tag underneath the lace.
Page 6 Comes with a large floral tag and of course the art card you see in the photo is what is inside the envelope.
Page 7 Do not hesitate to send love letters. The envelope has a pocket to keep items inside.
Page 8 Sisters are forever. I have added an art card and little images of sisters at different ages.
Page 9 Dream of being anything. The masquerade mask is trimmed with fibres and facet gems.
Page 10 1000 hymns and choruses, this is a book cover I have glued into the book, plus I made a tag to match tucked into the page.
Page 11 Time waits for no one. Embellished with the aged photo repro and distressed watch.
Page 12 Tucked into the ribbon bow, another tag round scalloped. A pretty floral background.
Page 13 Take chances! May the "good Luck" fairy shine for you! A set of 3 playing cards are attached. Notice I choose page 13? That was totally by accident! I just realized it now! LOL!
Page 14 A pretty little girl with a lace pocket on the card, holds a floral tag and another little envelope. Oh! what could be in there?
Page 15 The keeper, a little paper envelope filled with 2 small tags.
Page 16 Another secret envelope embellished with a key. What could it hold? Also another small tag tied in the top corner.
Page 17 A pretty woman, another tag tucked under the lace, and embellished with a vintage brass pin with faceted glass stone.
Page 18 Believe in angels, done in black and white.
Page 19 Angels are among us everyday! I once met an angel, tho she was not my angel. Tucked in the lace is another tag with a pretty angel child.
Page 20 Enjoy and accept gifts of flowers from all suitors. You will have fond memories all your life if you do!
Page 21 This book is done! Another small tag tucked under the lace.
Page 22 The End! Page is also finished with fibre and bead trim.
Thank-you for looking!