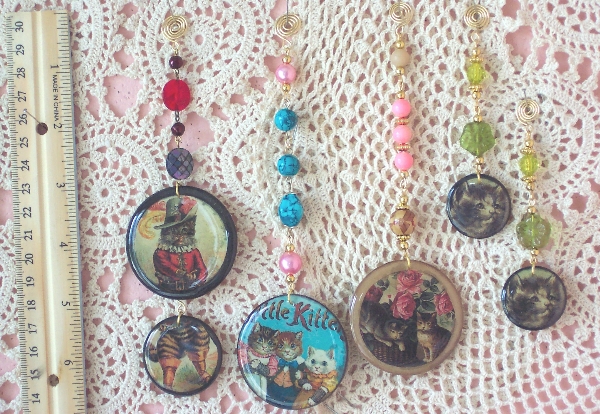 07-053 set of 5 Cat charms assorted

Product code: 07-053

Title: Set of 5 Cat charms assorted approx 4-6 inches in length.
2 are large 2 inch diameter, 2 are small 1 inch diameter and Puss in boots is made of 2 circles attached. His boots dangle separately.
Made on heavy matt board and coated with several coats of a very high gloss epoxy to give a nice smooth glass like finish. Also gives nice depth to the images.
These beaded charm dangles can be used as window decorations, hanging ornaments or attached to your altered book projects. They come 4 assorted as shown in photo.

Made with a variety of beads both vintage and new, and finished with a wire spiral for hanging or attaching.
Ideal for altered art projects, scrapbooking, embellishing, jewelry etc.
Photo 107 of 149, 07-053 set of 5 Cat charms assorted.jpg, 304KB, 600x414, 102 Hits
Other Sizes:
Original