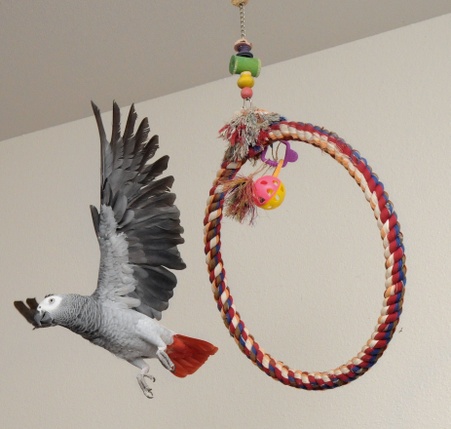 Congo African Grey~The Light of My Life
UPDATED 7/12/09

This is AnnaBella, formerly known as Harrison. The breeder told us she was male but DNA tests proved otherwise. So, we decided to change her name. Please ignore anything that says "Harrison". Thank You.

4~12~08-AnnaBella talking. I've included a list of what she says.
That's my girl
baby
wanna come out
want some water
hello birds
how are you
i love you
want some water
???
come on
almond?
baby
wanna come out
hello
I'm a star, superstar

Sandy (the dog)
how ya doin girl, you ok?
BIG FART sound, then she says "oooopsie"
more wanna come out...
cluck like a chicken
wanna come out baby girl
hungry?
want some water?
superstar
superstar
wanna come out baby girl?
Hiya Hotlips! (HIYA is a bit hard to hear)
gimme kiss


wanna come out
wanna come out baby
want some water
again
want an almond

Here's a list of vocabluary she's learned over the last 2 years. I started keeping a "journal" of what she says after having her about a year.....

I love you
Hi/hello baby
Whatcha doin?
Cartoooons!!
Hiya Hotlips
OOOoooooohhhh!!!
Hellllloooo???
Hello bird
Harrison is a (very) pretty biiiiiirrrrrd
Pretty cool
It's OK

Added 4~12~07
Feed the geckos?
You're a good boy. (lol)
How's my baby?
I'm sorry
Hello Buddy
How are you?
He just started saying "no" when he doesn't want to do something. :)

5~1~07
Heather
Where's Heather?
I'm Sorry
gootchie-gootchie goo
Go On
Ooops!
5~23~07
I'm trying to teach him "Tell me about it, stud"...you know, the famous line in "Grease"...so far he says "Tell me about it, SSSSS"
5~26~07
He said "Tell me about it, Stud" perfectly. He doesn't always say it perfectly, but most of the time he does.

He's also saying different variations of the phrases in the first group. Like "Whatcha doin boy?" or "Whatcha doin Harrison?" He beeps like the microwave, makes belching and farting sounds, whines like the dog, wolf whistles, and he also kinda mumbles in my husbands voice...I'll say "what did you say?" to my husband...and he didn't say anything at all...it was AnnaBella.

7/10/07
Since we've found out that Harrison (AnnaBella) is female, we've been talking to her as such. She's learned a few new phrases...

Pretty Girl
Good Girl
Wanna Come out and Play?
She's also barking like our dog...she talks to the dog but I can't understand her...she says "blah blah...Sandy!!" (the dog's name)

I had a sneezing episode yesterday and after each sneeze, my husband said "bless you"...well, this morning, AnnaBella made a sneezing sound and said "bless you" right after. ha.

7/25/07
La Dee Da
Yummy yummy yummy
Stop it Sandy
and she's regularly making sneezing sounds and saying "bless you"

8/13/07
You Go Poopie?
(female voice) "Honey?!"~(male voice) "What?!"
It's alright
Ok bye bye
Bye bye Harrison
You're a good bird, yes you are
Come here
WOW!
She makes the sound of a soda pop opening

8/18/07
Want a cracker?
Fly, fly, fly!!
Hey, hey, hey!!
What's the matter?
Where's my good birdie?

10/10/07
Hi Sweet Pea
That's my nose, those are my toes
Sandy, shush (Sandy is our dog)

10/26/07
Hey Girl
Go Poopie (in a really high voice, then she poops)
Where's my girl?
Walnut?
Watch birdies (bird DVD)
How's my (little) girl, hmmmm????
That's my (little) girl

11/7/07
I'll be right back
Go outside

12/18/07
Silly girl
Silly bird(y)
Got your nose
WHAT!?~she says that quite often after we say something...as if she didn't quite hear what we said..
Beep (like the phone) Hello? then she says "alright bye bye"
Come on, come on, step up. C'mere baby girl, step up.
I'm sorry
Sandy, chill!!
Where's Denis/Valerie
Hi Heather/Denis/Valerie

1/20/08
She has started clucking like a chicken...I don't know where she got that.
She's also recently started saying "turkey" because I call her that.
When I go to get her out of her cage, she sometimes plays hard to get. Well, she's got what I say down pat.
"wanna come out?" "NO?...ok"...(i walk away)..."turkey!!"...then AnnaBella kinda stomps her feet..."oh you do wanna come out?"..."I thought so"..."Turkey!!"

4/18/08
I'm a star/superstar
cluck cluck chicken
cocka doodle doo good morning
cocka doo doo
wanna go back?
want some water?
You stay right here.
6/13/08
What's going on, buddy?
You wanna come back out?
Where's/who's my little girl?
You're my good girl, yes you are.
Wanna come out and play?
Do you wanna go eat?
Want some mango?
Thank you (my voice)
You're welcome (hubby's voice)
When she sees me eating almost anything, she will say "Want some?"...she also, for some reason, says "Want some here?" I think it's because after she says "want some?" I give her a little bite and I say "here"...that must be why she started that.
7/15/08
Hi Sweet Girl
Where's my sweet girl?
Where's my lil girl
It's ok, buddy
Turkey Lurkey
8/2/08
You're a good girl, Sandy, that's the baby.
When she flies to me, right when she lands on my hand, she says "hello."...it's so cute...she's so 'matter of fact'.
8/18/08
Want a pistachio?
I've been trying to teach her "Okie dokie artichokie" but she says "okie dokie turkey lurkey" instead...it's cute
Wassssup
10/3/08
You are my sunshine...(I'm trying to teach her the song)
Hey, don't bite me.
Stay right there.
Cheerio?

7/12/09...
I haven't updated AnnaBella's vocabulary list in quite a while. I've been working with her on singing "How much is that birdie in the window?" (just that one line)...she sings it almost perfectly, except instead of singing "window", she sings "gooooooo" (go). She learned "1, 2, 3, gooooo" a long time ago and that's the "goooo" she sings. It's really quite cute. She learns new words/phrases all the time, it would be impossible to write all of it here. The interesting thing is how and when she says certain things. She always says "hello" when she initially sees one of us...she also says "bye bye" and "I love you" (sometimes) when I put her in her cage and walk away. Of course, I've been saying these things to her all along. But she'll now say it to me before I say it to her. She asks for specific foods (grape, cheerio, cracker, celery....etc) at meal times. She says "bless you" to sneezers. She answers yes/no questions for me, asked by my husband..not always the right answer, of course. She was watching TV with me last night...a sad movie...during a part where a female character was crying, she said "ooohhhhhhh"...as if she felt sorry for her. There are so many others...too many to list...as it is, this is too long. I have a video camera, I just don't know how to put the videos on the computer. Some day I'll have videos of her acting "human"...lol. Thanks for looking!!!
Date(s): April 6, 2006.
Album by Copyright Heather Strella.
Photos by Copyright Heather Strella.
1 - 227 of 227 Total. 14275 Visits.