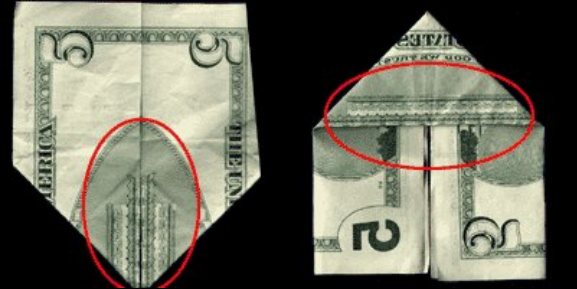 CRYPTIC COMMUNICATIONS/ US CURRENCY
BLACK MAGIC OCCULT RITUAL MOCKERY?

The folded five dollar bill shows the WTC under construction on one side (left image) and on the other side the completed WTC.

What are the chances that the events of 9/11 would show up in consecutive order on consecutive denominations of US currency well in advance of the actual event?
According to some researchers the cryptocracy is using black magic and occult ritual to gradually process humanity into mind controlled slaves. Part of the occult ritual requires that those the ritual is being worked on be informed about what is being deliberately done to them.
"Wow, I never have noticed that the 5's are backwards on one side of the bill. Look at the image on the right. Why is that?" --
Ken
, 02/11/10
"Someone has too much time on their hands." --
Dee
, 04/20/10
"For once I agree with you Dee someone does have too much time on their hands. The powerful elite hiding behind the scenes smirking at their cleverness in diddling the public with these sly little pranks. It's all part of the ritual to reinforce how powerful they think they are. They want us to think that too. A psychological mind f--k" --
Glenn
, 10/04/10
"lol i dont think thats what was meant by that but ok. the 5 dollar bill has not changed that much in the last 50 years oher than a few security updates and you cant tell me that 9-11 was forseen that far in advance this is classic, seeing what you want to see" --
legacyx
, 12/18/10
"I can believe these people are planning 50 years in advance. We are talking about the elimination of all country borders and 90% of the world's population. That's practically,well, a New World Order." --
Ted
, 05/22/11
"The forces behind the human stooges are in 4th density (dimension) which is not limited by time (e.g. similar to how time doesn't exist in your dreams, thus they "don't make sense"). In theological terms, the Devil don't die, so he is a time-traveller, who can go ahead 50 years, get a stooge to prophesy something, then go back in time and set it up to happen. Get the picture? Like Cut & Pasting our reality on PhotoShop" --
Bert
, 09/12/11