CHANGE OF COMMAND - 1ST BN, 1ST MARINES
---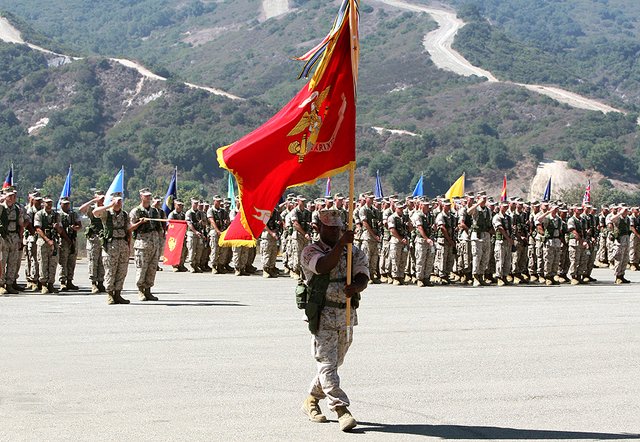 ---
In the above photo, Sergeant Major Curtis M. Anderson delivers the Battalion Colors to the Commanding Officer, who in turn will hand over the colors to the new Commander, marking the official passage of command.

Lineage of 1/1 (1st Battalion, 1st Marine Regiment, 1st Marine Division) goes back to 1941 when the battalion was activated at Guantanamo Bay, Cuba. Since that time the Marines & Sailors of 1/1 have distinguished themselves in campaigns all over the world, including the South Pacific in World War II, Korea, Viet Nam, and Iraq. The streamers on the Bn Colors, called "Battle Colors," represent the many campaigns in which 1/1 participated.

On this day, LtCol David J. Furness relinquishes command to LtCol Jeffrey T. Conner. LtCol Furness will assume duties of Executive Officer of the 1st Marine Regiment, and LtCol Conner adds his name to the long list of Marine officers who have had the honor and privilege of commanding 1/1.

These images follow the sequence of events, beginning as guests are arriving and the battalion assembling off the parade ground. The sequence of the ceremony is shown here in image No. 1. Photos after the ceremony were taken during the reception at the 1/1 Grinder, behind 1/1 HQ.

Images may be saved/printed for personal use without restriction. To save, always select "Original" at bottom of enlargement, for highest resolution. If used in a publication, please credit "Photo by B.B. Yarborough."

For questions, comments, assistance or to e-mail the photographer, click here!



---
Click this button to hear the USMC Band play 'The Stars and Stripes Forever!'
The music will begin and you can continue viewing the images.

Date(s): September 29, 2006.
Album by BB Yarborough.
Photos by ©2006 B.B. Yarborough.
1 - 18 of 122 Total. 10355 Visits.