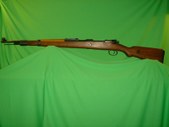 1943 bcd Gustloff Werke K98k
K98k (7.92 x 57mm) 1943 Gustloff Werke, Weimar

(East German Post WW2 Re-build)
"All Matching Serial Numbers" (Except Rear Sight)
Refurbished in Suhl, Germany. The markings show that the rifle had its last check in approx 1974 or later (Crown+U, Crown+N, Eagle). The crown was in use from 1952-1974 and the eagle from 1974 onwards.

*** SOLD *** SOLD *** SOLD *** SOLD ***

"If interested, leave comments at bottom of page"
Date(s): January 29, 2006.
Album by Badger.
Photos by Badger.
1 - 24 of 53 Total. 3601 Visits.